Nationalism in India | Social Science Question Paper
Nationalism in India – This Social Science question answer paper about "Nationalism in India" is helpful for high school (10th), intermediate (12th) and various competition examination student like IAS, PCS, Teacher Eligibility Test (TET), bank clerk exam, government job exams. This Social Sudies question paper os related to – The first world war, khilafat and non-cooperation, differing stands within the movement, towards civil disobedience, the sense of collective belonging.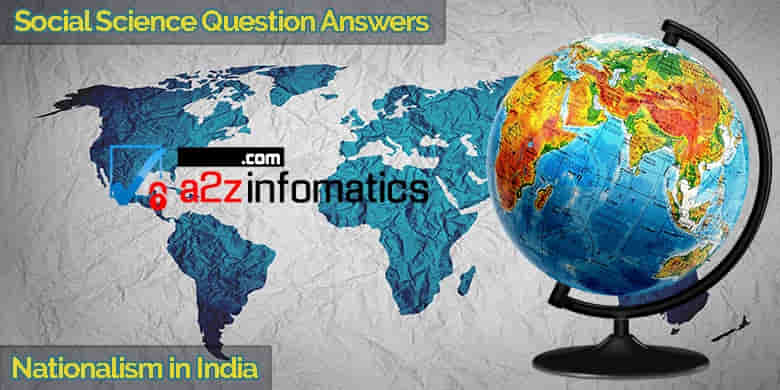 Nationalism in India – Social Science / Studies Question Answer.
Note: Correct answer for each Social Science Question Paper is marked in Bold Red.
Question 1. In India the growth of modern nationalism in intimately connected to the….
Western education
Awareness of people
Anti Colonial movement
None of the above
Question 2. According to the census of 1921, 12 to 13 million people preished in India as a result of…
Famines
Epidemic
First world war
Both a or b
Question 3. When was the non- cooperation khilafat movement begin in India?
1919
1920
1921
1922
Question 4. Gandhiji organised a Satyagraha to support the peasants of the Kheda district of Gujarat in…
1917
1915
1916
1918
Question 5. Vallabhbhai Patel led the peasant movement in Bardoli, Gujarat in…
1917
1925
1928
1930
Question 6. Which province did not boycott the council election…
Ahmedabad
Hyderabad
Lucknow
Madras
Question 7. ln Awadh, peasants were led by which Sanyasi who had earlier been to Fiji, as an indentured labourer?
Baba Ramdev
Baba Nagarjuna
Baba Ramchandra
Baba Parmanand
Question 8. With the growth of nationalism, who created the image of Bharat Mata in the 20th century?
Nand Lal Bose
Abanindranath Tagore
Rabindranath Tagore
Bankim Chandra chattopadhyay
Question 9. Who himself took interest to revive folklore in West Bengal?
Rabindranath Tagore
Bankim Chandra chattopadhyay
Abanindranath Tagore
All of the above
Question 10. Identify the appropriate reason for the formation of the Swaraj party from the option given below.
It wanted members of Congress to ask for poorna swarajya for Indians.
It wanted members of Congress to return council politics.
It wanted members of Congress to oppose Simon commission.
It wanted members of Congress to ask dominion state for India.
Question 11. Find the incorrect option.
In 1918, Gandhiji went to Ahmedabad to organise a Satyagraha movement.
Khilafat movement was started in 1921.
Mahatma Gandhi return to India for South Africa in 1918.
Jalianwala Bagh massacre took place on 13th April, 1919.
Question 12. Find the incorrect option.
Simon commission was constituted under Johan Simon.
In Awadh, the peasants movement developed under the leadership of Baba Ramchandra.
In 1921, Gandhiji had designed tricolour of Swaraj flag.
'Qudh Kisan Sabha' was headed by Mahatma Gandhi.
Question 13. Arrange the following in the correct sequence.
Mahatma Gandhi return India
Non cooperation movement
Simon commission
Incident of chauri chaura
Sequence Options- 
1,2,3,4
1,2,4, 3
4,3,2, 1
3,4,1,2
सामाजिक विज्ञान / Science Question Answer Paper.
Question 14. Arrange the following in the correct sequence.
Depressed class association
Rowlatt act
Poona pact signed
Gandhiji travelled to Champaran
Sequence Options – 
1,2,3,4
1,3,2,4
4,2,1,3
2,1,3,4
Question 15. The president of Muslim league in 1930 was….
Sar Mohammed Iqbal
Shakur Ali
Mohammed Ali Jinnah
Maulana Azad
Question 16.The 'Quhd Kisan Sabha' in Avadh' was headed by…
Rabindranath
Jawaharlal Nehru
Mahatma Gandhi
Amrita Shergill
Question 17. Mahatma Gandhi return to India from South Africa….
1916
1917
1918
1915
Question 18. In which city Mahatma Gandhi launched Satyagraha in 1918?
Indore
Delhi
Ahmedabad
Kanpur
Question 19. When was rowlatt act passed?
1917
1918
1919
1920
Question 20. When did the non cooperation and khilafat movement began?
February 1920
January 1921
March 1922
April 1923
Question 21. How many miles were covered in Gandhiji's Salt March?
220 miles
239 miles
241 miles
240 miles
Question 22. The resolation of Pune swarajya was adopted at which congress session?
Lahore 1929
Karachi 1933
Madras 1920
Delhi 1921
Question 23. Who announced a vague offer of 'Dominion status' for Indian 1929?
Viceroy Dalhousie
Lord cornwallis
Viceroy lord Irwin
William Bentick
Question 24. Who was responsible for the in famous Jallianwala Bagh incident on 13 April 1919 at Amritsar?
Warren Hastings
General dyre
William Bentick
Lord Cornwallis
Question 25. In…… federation of the Indian chamber of commerce and industries (FICCI )was formed.
1926
1928
1929
1927
Best of luck to all IAS / PCS, UPSC, SSC, TET and other competitive exam aspirants, we wish everybody's successful career in their desired fields. Keep visiting a2zinfomatics.