The Rise of Nationalism in Europe – This Social Science question answer paper is helpful for high school (10th), intermediate (12th) and various competition examination student like IAS, PCS, Teacher Eligibility Test (TET), bank clerk exam, government job exam. This Social Sudies question paper os related to – The french revolution and the idea of the nation, the making of nationalism in europe, the age of revolution 1830-1848, the making of germany and italy, visualizing the nation & Nationalism and Imperialism.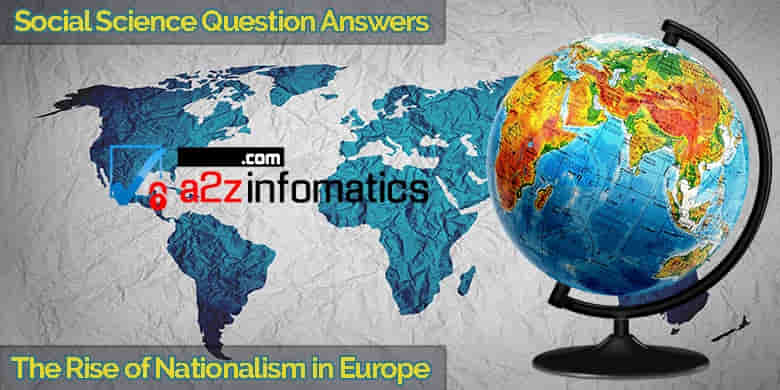 The Rise of Nationalism in Europe – Social Science / Studies Question Answer.
Note: Correct answer for each Social Science Question Paper is marked in Bold Red.
Question 1. Which country became full – fledged territorial state in Europe in the year 1789?
Germany
France
England
Spain
Question 2. When was the first clear expression of nationalism noticed in Europe?
1789
1759
1787
1769
Question 3. Which one language among the following, written and spoken in Paris and further accepted as common language of that nation?
English
German
Spanish
French
Question 4. Which newly designed flag was choosen to replace the formal flag 'Royale standard' in France?
Union jack
Tricolour
White saltire
Red cross
Question 5. Which of the following reforms made the whole system in France more rational and efficient?
Administrative reform
Social reform
Economic reform
Political reform
Question 6. Which reason is ruled by 'The Habsburg empire'?
France- Netherlands
Spain – Portugal
Scotland -Ireland
Austria-Hungary
Question 7. Which language was spoken for purposes of diplomacy in the mid 18th century in Europe?
German
English
French
Spanish
Question 8. What was the main feature of the pattern of land holding prevailing in the Eastern and Central Europe?
Tenants
Vast Estates
Small honours
Landlords
Question 9. Which of the following revolutions is called as the first expression of nationalism?
French revolution
Russian revolution
Glorious revolution
The revolution of the liberals
Question 10. Where was the first upheaval took place in July 1830?
Italy
France
Germany
Greece
Question 11. Identify the appropriate factors lef to the rise of nationalism in Europe.
Great economics hardship in Europe
The rise of commercial class
It established traditional institutions of state and society
The spread of the ideology of liberalism
Question 12. Arrange the following in the correct sequence.
Treaty of Vienna
Napoleonic wars began
Unification of Italy
French revolution
Sequence Options –
4,2,1,3
4,3,2,1
1,2,3,4
1,4,3,2
Question 13. Arrange the following in the correct sequence
Unification of Italy
French revolution
Unification of Germany
Napoleon invaded Italy
Sequence Options –
3,4,2,1
4,3,2,1
2,4,1,3
1,2,3,4
Social Studies / Science Question Answer Paper.
Question 14. Find the incorrect option
Treaty of Vienna was signed in 1845.
Sardinia-Piedmont was ruled by an Italian princely house
Victor Emmanuel second was proclaimed the king of united ltaly
During the 19th century nationalism emerged as force in Europe
Question 15. Find the incorrect option.
The napoleonic code (Civil code) was introduced in 1804
The 1830, were the years of great economic heart shape in Europe
Count camillo de cavour was Central figure in the unification of Italy
In 1831, an armed rebellion against Russian rule took place
Question 16. The treaty of Vienna was signed in…
1816
1815
1817
1818
Question 17…….destroyed democracy in France.
Napoleon Bonaporre
Kaiser William
Duke Metternich
Johann Gottfried
Question 18. Victor Emmanuel second was proclaimed king of United ltaly in…
1871
1881
1861
1891
Question 19…… Country had been part of the Ottoman Empire since the 15th century.
France
Germany
Japan
Greece
Question 20. When was France declared as a republic?
21st September 1692
21st September 1792
21st September 1892
21st September 1992
Question 21. When was custom union formed in Europe?
1810
1826
1834
1814
Question 22. Identify the factors which cause rise of hardship, hunger and Revolt in Europe.
Increasing in population all over the Europe
Unemployment
Price rise
Drought
Question 23.Friedrich Wilhelm 4 was king of…
Germany
Prussia
Japan
Italy
Question 24. In which year, the first upheaval took place in France?
1787
1788
1789
1790
Question 25. The 'civil code of 1804'of France generally known as….
Napoleon code
European code
Ottoman code
Napoleonic code
Best of luck to all IAS / PCS, UPSC, SSC, TET and other competitive exam aspirants, we wish everybody's successful career in their desired fields. Keep visiting a2zinfomatics.