Funny Prank using Android Developer Options, Howto / Trick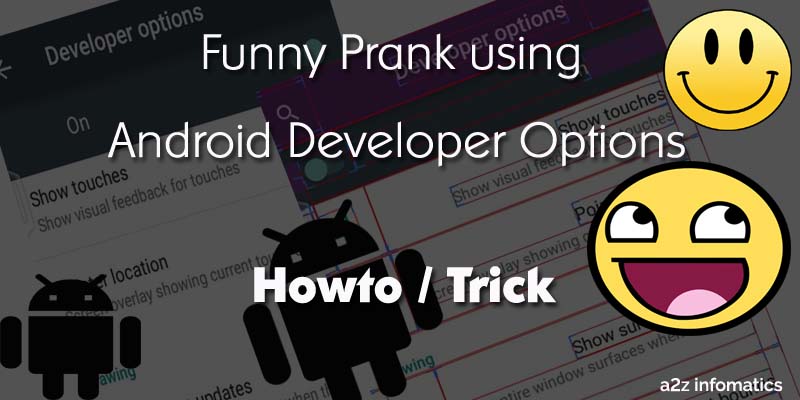 Just Imagine, how funny it would be to prank your friends or any naughty cousin who always is interested to snatch your Android Phone. Does this sounds good for anybody ?. We hope, majority of people reading this are curious to know and implement this Android Developer Options Funny Prank TRICK. Couple of days back, One of our staff member was just playing with his ANDROID Phone and accidentally found this hidden features in the phone settings. Later, he implemented some of the settings and was shocked and crying by observing his phone's performance & appearance. Then, one "ANDROID Freak" from the staff members helped him with that and brought everything back to the normal again. You can't believe, afterwards we have PRANKED many of our staff members with this funny prank trick. We don't think that there's need to repeat about their reactions. YUPS, they all were shocked and crying too 🙂 .
Here comes the actual part of your interest, Android Developer Options. Actually, these developers settings are supposed to be for the developers usage only and due to this reason these settings are kept hidden. Irrelevant changes to these settings can only make your Android Phone and the apps to crack or perhaps misbehave. In spite of this, you can safely implement a few of its settings to perform a safe prank with any of your friends or with your naughty cousin 🙂 . So, let's move to the actual doings for this ACT.  First thing you have to do is to TURN ON this hidden features on today's unlucky victim Android Phone.
How-To / Instructions about Turning ON the Android Developer Options for this Funny Prank.
Believe us, switching ON the ANDROID developer options will always be a fun for everybody. We had feel the same when we turned it to ON. This feels like you got the key of the bank to attempt a bank-robbery 🙂 . You just have to press some buttons & it will be revealed to you. If and only if you really wants to activate this ANDROID Developers option for the 1st time, follow the directions given below:
1)- Place your Victim's Android device in your hand and unlock it, don't you think the starting is very easy 🙂 .
2)- Go to the "Settings" option Now.
3)- Now, Scroll down to the end, you fill find "About Phone" option there, simple click / tap that.
4)- After getting into the "About Phone" section, you have to find "Build Number" option. If found 🙂 , just hit it for near about 6-7 times simultaneously (you have to tap quickly). After completing this act successfully a small confirmation dialog box will appear saying "You're now a developer" 🙂 . (Shown in the figure below)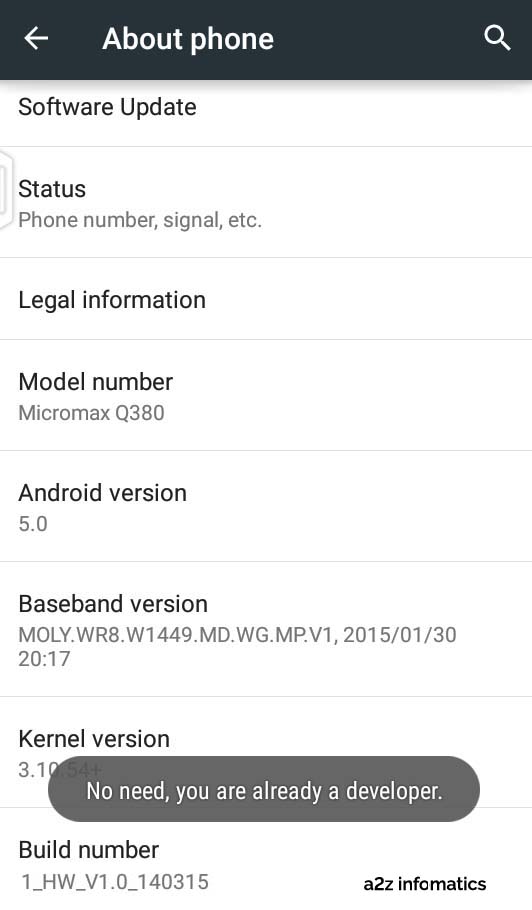 After completing all the above directions, there will be a new component named as "Developer Options" added to your android phone's "Settings". Please check the same and confirm before moving forward to activate this Android Developer options Funny PRANK trick.
Changes to be made in "Developer Options" Settings to Prank anybody.
Here goes the important instructions for which you are here and so curious to know about. To Prank any of your selected VICTIM, you have to make some changes inside this "Developer Options" settings. detailed Instructions have been given below:
1)- Go go to the "Settings" panel of Android device again.
2)- Now, Scroll down till you find this fresh added "Developer options", Open it. (Shown in the figure below)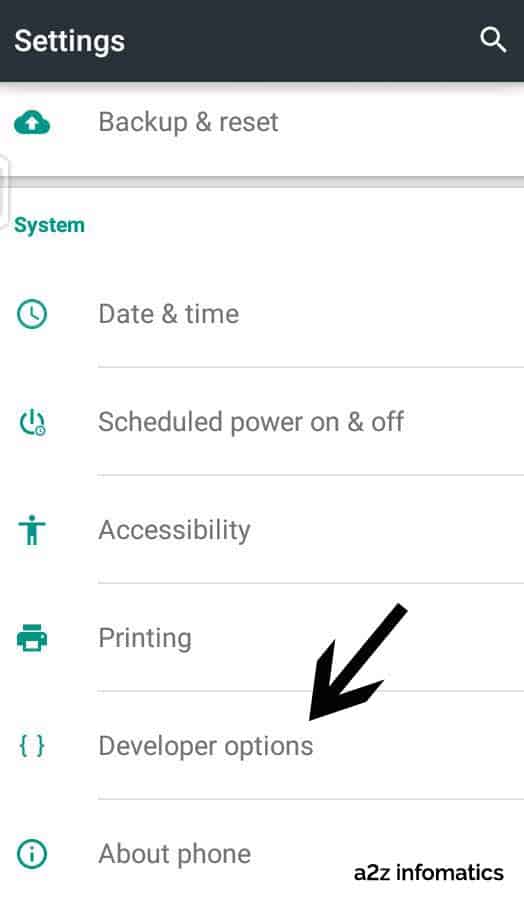 3)- Now, to initiate this Funny PRANK, you have to make some custom settings within the "Developer Options". You just need to enable some settings which we are instructing here to enable. All the related settings are listed below with complete description about them. To enable any of the setting, just place a tick-mark next to the option. (Shown in the image below)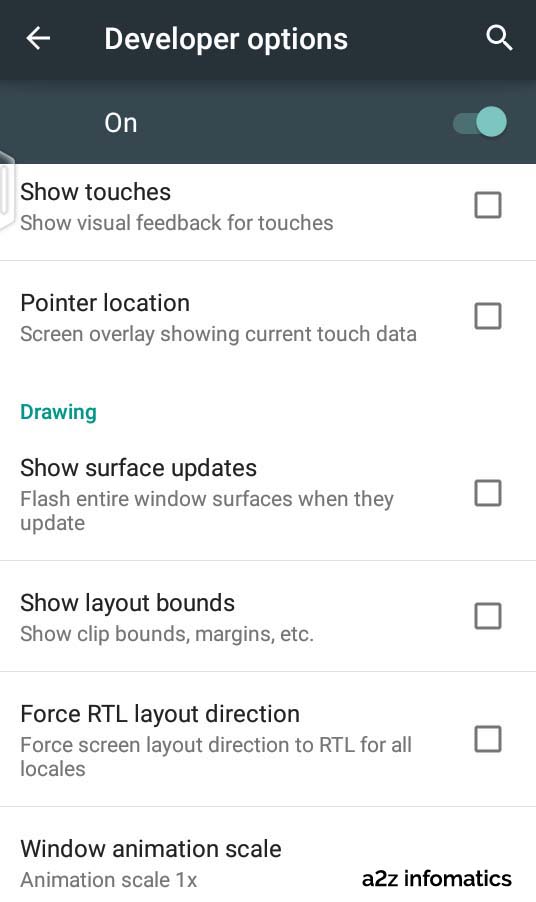 A)- Show touches: Selecting this particular choice will show the point from where the actual touch is done on the screen.
B)- Pointer location: Selecting this choice will show all moves of the touch alongside coordinate of the last touched place.
C)- Show screen updates: Enabling this option will make your phone's screen blink with pink color when-ever the touch is done any-where on the phone screen.
D)- Show layout bounds: Selecting this option will show all the margins, clip bounds and various structuring of phone screen.
E)- Force RTL layout direction: Generally almost all device's Screen is lined up from left to right. Enabling this option will alter all layout alignment from right to left.
F)- Change Scale Values: Here, you will get 3 animation scale, like transition animation scale, window animation scale and animator duration scale. All these scales have been designed to change the transition time of different processes. For instance, they may slowdown the transition time whenever new app window is opened by you. Suppose, If anybody change all the animation scales to 15x value, the phone / device will slow down to a large extent and will looks like same as when it's hanged.
Congratulations, we are just one step away to initiate this Android Developer Options Funny PRANK. Enable all the options / features explained above, do close all the app windows. Now, hand over the targeted phone to any of your Victim and be there to see their unseen reactions. (Below is the preview of the Phone's Screen where the PRANK setting have been applied inside "Developer Options").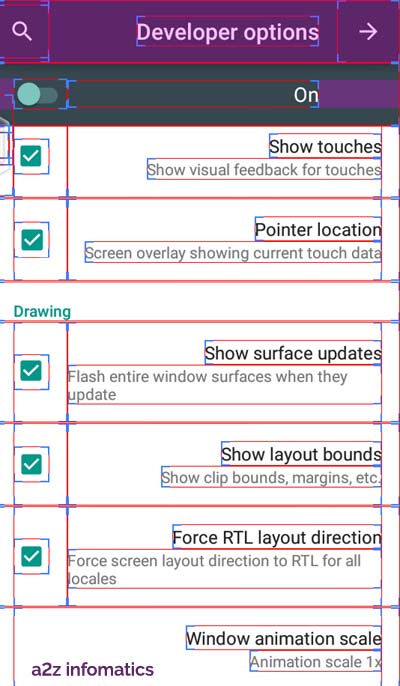 We BET, Each and every Victim of this PRANK will be shocked to witness this and will be in worry about how to bring it back to the normal. While all this happen, You may act like a SUPER HERO here, just by saying … Let me try to fix it 🙂 . Below we are providing the solution just and just for you to undo all the applied settings.
How-To Undo the applied Developer Options settings:
This maybe a very very big, terrible problem for all the Victims of this PRANK, but the solution is the easiest. Just reach to Developer Options under Settings, Move the ON button (at Top-Right) to OFF. Actually, this is the only solution available to get rid of this terrible problem 🙂 . Even rebooting the device doesn't help.
Here, we are ending this by making a humble request to all the valued readers, to share any of their experience while performing this Android Developer Settings Funny Prank Trick with their friends, naughty cousins or relatives. We will be back with many more funny PRANK TRICKS to improve your KB (knowledge base) PLUS giving you some moments of FUN. Life is always colourful, Enjoy each and every moment of it. Lots of love & Blessings from a2z infomatics. God Bless Everybody.