Leave Application for CoVid-19 Patients After Recovery / Home Quarantine
Corona Virus (Covid-19 pandemic) is getting bigger threat day by day, for the whole community Worldwide. Although, social distancing is the only cure for Covid-19 at this moment. Nearly all countries in the world including INDIA, had opted Complete Lockdown in the initial period of Corona Virus attack but failed to get rid of this deadly / contigous disease. Sadly, now there is no option left for the common man, they have to continue their jobs as of collecting their livings. Most of the people are taking the recommended precautions, but still large number of people is getting infected with this damn Corona Infection. Well, there is no need to panic at all, carry on with your work with all possible precautionary measures and leave the rest to GOD. In case, any of you get infected / positive with the Covid-19, below is the leave application format you can use at the time of recovery or joining after getting recovered from Corona Viral Infection.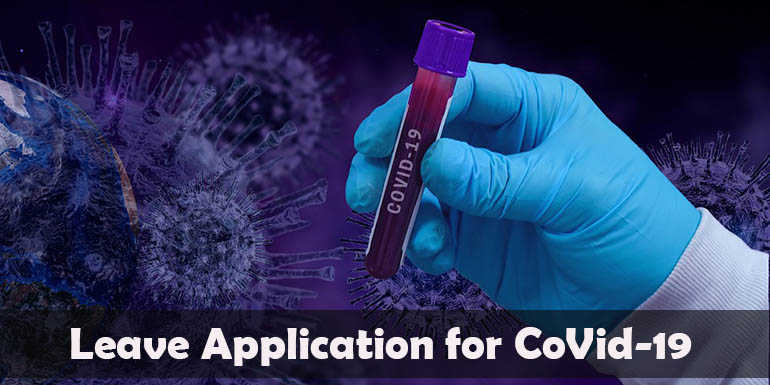 Download Corona Virus (CoVid-19) Patients Leave Application Format for the Private / Government Sector Employees.
To,
The Manager.
Organisation Name.
Organisation Address.
Respected Sir / Madam,
This is to inform you, that after experiencing the initial symptoms of Covid-19, I got tested for the Covid-19 on "Covid-19 Lab Test Date". On "Covid-19 Lab Test Result Date", the final report came with the positive status. Same day, for further emergency treatment, I got admitted to the "Covid-19 Ward Name / Hospital Name". Later, afer fighting with the Covid-19 infection for 12 complete days, got discharged on "Patient Discharge Date" recommendations of getting home quarantine for additional 14 days at my home. Now, as the prescribed home quarantine period is over, I am getting back to my work on "Applicant Joing Date". So I kindly request you to please grant leave to me for all those miserable and unforgetable days of my life. I will be very very thankful for this kind support of your's.
Thanking You Again.
Your's Failthfully.
Your Complete Name with Signature.
Important: It will totally depend on the Employer to accept this CoronaVirus (Covid-19) leave application as Paid Leave Application or Unpaid Leave Application. The employer may grant full paid leave to the applicant, in case if there is compulsory LOCKDOWN instructions OR the organisation / firm / institution is lying under declared HOTSPOT / Buffer Zone @ Covid-19 Pandemic.
Final Notes- We hope, this "Corona Leave Application Format" have helped a little bit to many needful Corona Warriors. In addition, we wish for their super fast speedy recovery. Stay Blessed, Remain Safe.