While researching for the next topic of our post, we found that there were bulk of JIO users which are confused about connecting to the Reliance JIO Customer Care Toll Free Phone Number. People are complaining that there is 45 minute to 60 minute wait time, before they connect to the Reliance JIO Customer Care representative. People are so curious to solve their problems about, inability of making and receiving the calls, unable to connect to the data network etc. Some people are still waiting for their Free JIO sim to get activated, even after 25 days of buying the JIO Sim Card. Nothing to worry, Today we are here with the complete details about how to catch JIO Customer Support with ease. We will try our level best to reveal every available option to connect with the Reliance JIO customer support.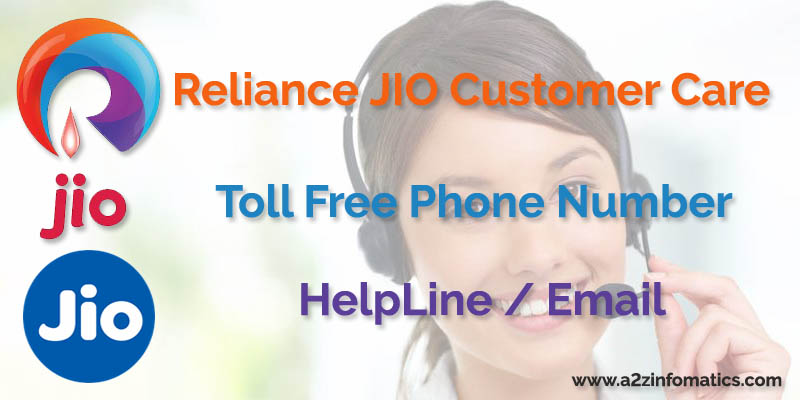 JIO Customer Care Number / Toll Free Helpline / Jio Web Support / Jio Facebook Support / Jio Twitter Support / Email / Jio Office Address.
Although, the information about how to contact Reliance JIO Customer Care is easily available, but bulk of the sources are providing the fake information. We had done hard research to collect all the available data and then filtered the real working options about connecting to the JIO customer care team. Let's move forward to the all available options to connect with Reliance JIO Customer Support using Toll Free JIO Care Number, Alternate JIO Support number, JIO Email Support, JIO Facebook Support, JIO Twitter Support, MY JIO mobile app, JIO Chat mobile app or by using Reliance JIO Official Website. We haven't missed any single option to reach JIO Care, using any of these options will surely solve your problem with the superfast JIO network.
Reliance Jio Toll Free Customer Care Numbers.
For JIO users:
198 or 199 with activated JIO Sim.
1800-889-9999 from any other (Non-JIO) number. If you failed to connect with the JIO customer care using the above number, you need to catch JIO support representative using this number via another operator.
1977 for tele-verification to activate JIO Sim for (Data + Voice).
1800-890-1977 for tele-verification to activate JIO Sim for Data services only.
1800-893-3399 Toll Free number for Reliance JIO online shopping assistance.
For NON-JIO (Other) Customers.
1860-893-3333 for general inquiries or more information about JIO 4G LTE network or connection.
Reliance JIO Alternate Toll Free Customer Care Number.
1800-103-8877 from any network (JIO + others). Make sure that you have used the above numbers prior to use this one.
Reliance JIO Customer Care Official Email Address.
JIO Email support is helpful in the case, if other options aren't working or the user's problem is complicated. Many times, the user is unable to explain the real problem to the customer care representative using tele-communication option at toll-free support numbers. Under these circumstances, just sit and relax, write a detailed email explaining your problem, you will surely get positive response from the JIO email support within 24 hours. Below is the JIO's official customer care email.
Reliance JIO Live Chat Support / JIO Live Customer Care.
This customer support option isn't available in the beginning, at the time of JIO service launch. Here comes the good news, JIO Live Chat Support option is now open for all JIO users. Follow the steps below to connect with JIO Live Customer Care using MyJio mobile app.
1)- Launch MyJio mobile app and open "Manage your Jio account".
2)- Now, You will get 2 options:
(a): Sign in with Sim: If you already have activated JIO sim in your device, use this option and you will be automatically Log In to your JIO account.
(b): Manual Sign In OR Sigh Up: If your device doesn't have any activated JIO Sim or you are using JioFi 4G router. Provide the required credentials to sign in or use sign up option to create a new JIO account.
3)- After signing in using any of the above option, Left swipe the MyJio account screen and look for the "Jio Care" option.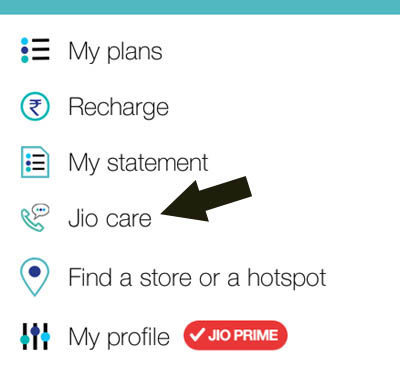 4)- Now, Click / Tap to the "Jio Care" option and you will be with "Chat now" option.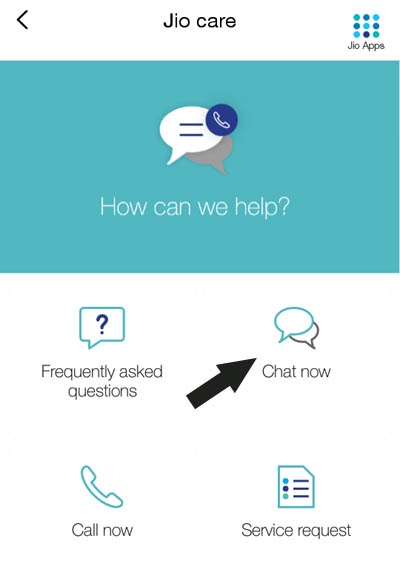 5)- Hit "Chat now" and the JIO live customer care agent will be with you anytime.
Important: Although this option is new to most of the people, you may experience some wait time prior to the chat session with jio customer care representative. Be calm and wait for your turn. Always remember that as of its free offerings, JIO now a days is Talk of the town.
How to Register JIO Complaints / How to track complaint status.
Using Tele-Communication option, you can register your complaints by dialling 198. For any reason, If that option doesn't work, you can use MyJio mobile app to raise a new complaint or track the status of the previously registered complaint. Below are the complete procedure to perform the action.
1)- Launch MyJio mobile app and click to "Jio Care" option by left swiping the Jio account screen. (Explained in previous demonstration).
2)- Now, look for the "Service request" option and click / tap to it.
3)- Now you will be with "Raise Request" and "Track Request" option.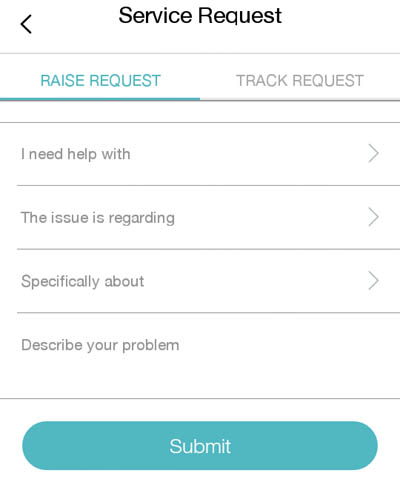 4)- Select any desired option, hit Submit after providing the required credentials.
Note: After successful registration of the complaint, you will
 Reliance JIO Web Customer Care at Official JIO Website.
If anybody is unable or don't want to install MyJio mobile app into their device, this is an alternative way to contact Reliance JIO Customer Care at their official website. Click here to fill the online jio customer care form, provide your email, subject and detailed inquiry in the appropriate fields. Due to large volume of inquiries using this medium of connection, it may take 24-48 hours to get the reply.
Self Help for the General Issues.
In case of any general issues, don't rely on the JIO customer care all the time. There are many Reliance JIO USSD codes available, by which you can fixed many of them instantly.
Alternate Jio Customer Care contact options.
Manytimes, when we try to connect with JIO customer care using the above toll free numbers, it fails at each attempt. Sometimes, the call automatically get disconnected, or there is a long wait time prior to the connection with customer care representative.
This actually is a miserable situation, nobody in this modern world would hold & wait for the call to get connected for 60 minutes. No worries, under these circumstances, below are the alternate ways to contact Reliance JIO customer care instantly, without any wait time.
Contact JIO Customer Care using JIO Twitter Support.
Reliance JIO Twitter handle: @jiocare
This is one of the most effective way to contact Jio customer care with ease. Jio twitter support is available on all days of the week including Sunday.
We hope everybody is familiar with the usage of Twitter Account. Just create a new twitter account or use the existing one. Just tweet the detailed problem with your JIO number inside the tweet box by putting @jiocare in the beginning or end of the tweet.

You can also visit http://twitter.com/jiocare and select the option "Tweet to" OR "Message" from the left menu to contact the JIO care directly. You can also follow @jiocare to get the latest announcements and latest JIO offers.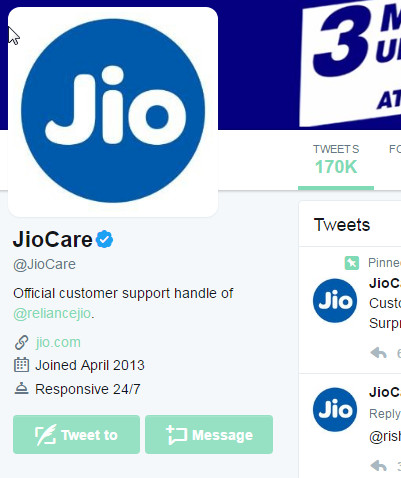 Contact JIO Customer Care using Reliance JIO Facebook Support.
This is the most popular alternate way to contact Jio Support Staff. Click here to visit the official Jio Facebook support page, look for the "Message" option there and that's it, you will be with JIO customer care representative. For latest offers and announcements by JIO, follow them at Facebook.
Contact JIO Customer Care using JIO Chat mobile app.
If anybody's familiar with the WhatsApp messaging app, then this Jio customer care contact option will be the easiest way to implement.
Install Jio Chat mobile app in your device and Log In using your JIO Sim or Jio account. Look for the Channel tab in the bottom of the screen and explore the channels list. Now, you will be with hundred of channels of your's popular brands. Look & locate the Jio Care channel and subscribe to it. Once you have subscribed to the Jio care channel there, you can easily send direct messages to the Jio care team with the full screenshots related to your problem.
By Finding Physical Reliance JIO Store near your location.
Last but not the least, this actually is the most used Jio Customer care contact option used by the JIO customers. You just have to find nearby Reliance JIO Store and throw all your problems to the representatives available there 🙂 .
Click here to start your search for the nearest Jio Digital Store, and get quick and effective JIO customer care support.
Reliance JIO Headquarter / Corporate Office Address.
Reliance JIO Headquarter Address.
Reliance Communications Ltd

3rd floor, BHQ, DAKC Koparkhairane, Navi Mumbai

Mumbai – 400709

Phone Number: +91-22-30370001.
Reliance JIO Corporate Office Address.
Reliance Jio Infocomm Ltd.

TC-23, Phase 4, B Wing (Thane Belapur Road, Ghansoli).

Navi Mumbai, Pin Code: 400701, Mahārāshtra, India.

Phone Number: +91-22-44787882.
Reliance JIO Official Website.
http://www.jio.com
Final Words.
All the available Reliance JIO Customer Care contact options are listed to this post. If there is any more known JIO Care contact option, please share the same with us under the comments section below. We will check, confirm and update the same into this post. Thanks for the visit, keep visiting a2z infomatics.