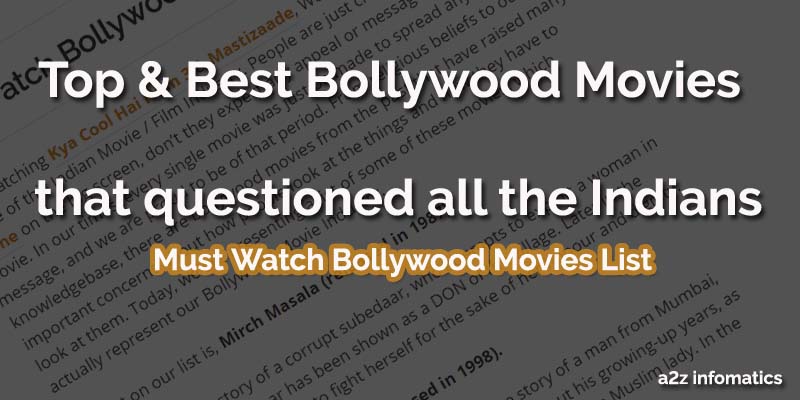 Must Watch Bollywood Movies List.
After watching Kya Cool Hai Hum 3 & Mastizaade, We just thought about the future of this Indian Movie / Film Industry. People are just crazy to see Sunny Leone on the big screen, don't they expect any appeal or message from the Movie. In our times, every single movie was just be made to spread any strong message, and we are proud to be of that period. From religious beliefs to our knowledgebase, there are bollywood movies from the past that have raised many important concerns about how people look at the things and how they have to look at them. Today, we are presenting a list of some of these movies, which actually represent our Bollywood Movie Industry.
1)- First on our list is, Mirch Masala (released in 1987).
This movie is the story of a corrupt subedaar, who attempts to exploit a woman in the village. The subedaar has been shown as a DON of the village. Later in the movie, this woman decides to fight herself for the sake of her honour and dignity.
2)- Second on the list is, Zakhm (released in 1998).
This Ajay Devgan starer movie has showcased the story of a man from Mumbai, while Hindu Muslim riots are happening there. It's about his growing-up years, as he was the illegal child of a already Wedded Hindu male & a Muslim lady. In the movie, he is trying to hide his mother's body from the people involved in this communal violence.
3)- Third on our list is, Gangaajal (released in 2003).
This movie is all about an honest IPS officer (Ajay Devgan), who wants to demolish each and every corrupt politician at any cost. The movie also has showcased the real faces of these corrupt politicians in small cities and villages.
4)- Forth on the list is, our favourite Rang De Basanti (released in 2006)
In this movie, while acting for a movie in the characters of some important freedom fighters, a group of five young friends decide to teach a lesson to a corrupt defence minister. In the movie these friends were trying to obtain justice for one of their mate who has sacrificed himself for the country.
5)- Fifth on our list is, Lage Raho Munna Bhai (released in 2006).
This Sanjay Dutt starer Superhit movie was all about the adorable don (Munna Bhai). This is the movie showcasing, how a DON after adopting GANDHI-GIRI has solved all his problems in a well mannered way. This is a must watch movie for everybody. You will learn a lot of things from this movie.
6)- Sixth on the list is, Taare Zameen Par (released in 2007).
This is a story of a child, suffering from Dyslexia and scoled by his parents for not doing well in the school. Later in the movie, this kid meets to a commiserative teacher who boosted his creative skills using his own techniques of teaching. This is a very touchy, emotional movie.
7)- Seventh on our list is, A Wednesday (released in 2008).
This is a story of a common man, very upset from the working system. This movie has showcased, what a common man can do if he has lost the faith from the system. A must watch thrilling movie.
8)- Eight on the list is, the famous "3 Idiots" (released in 2009).
This blockbuster movie is purely inspired from Chetan Bhagat's Novel, Five Point Someone. This movie is about 3 best friends, and their confusions related to their careers. This movie has explained us the importance of ability over college degrees.
9)- Ninth on our list is, Peepli Live (released in 2010).
The Movie has showcased, how the media and the politicians has behaved with a broken farmer, committing suicide because of his helpless condition. Although subject of this movie is a sad one, but the director of this movie has shown everything in a funny style.
10)- Last on the list is, Oh My God! (2012).
This is a story of a disbeliever man, willing to file a suit against GOD to get the claims for his damage. Actually, an earthquake has destroyed his shop and this man thinks that only GOD is responsible behind this EARTHQUAKE. This movie has also pointed out the immoral actions and blind faith happening there in INDIA.
That's all we have in our basket at this moment. We will surely continue the list with some more inspiring movies. If you think, any great movie has been missed out from making to this list, please inform us the same under comments section. Thanks for visiting here, keep visiting a2z infomatics. God Bless Everybody.