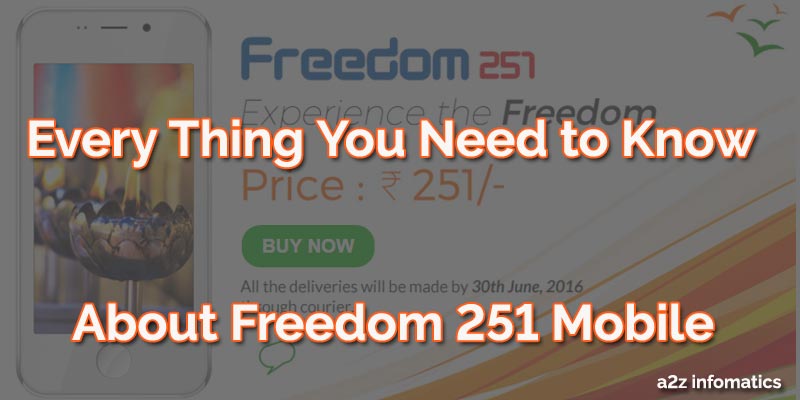 On 18 February, 2016, the whole of INDIA was shocked with the news of getting this cheapest Smartphone of the WORLD, just and just for INR 251 plus INR 40 as shipping charges. So, how's that about getting a fully featured Android Smartphone for only INR 291. That morning, people of INDIA, without having any cup of tea or coffee, just hurried on to the official website of Ringing Bells Freedom 251 mobile. Guess what they get from there ? 🙂 . Oh you guessed RIGHT, Nothing 🙂 . Actually, Ringing Bell has announced that the booking of the phone will start at sharp 6:00 Am, we haven't seen anybody crossing the ORDER page on 18th Feb, all came back with the message saying "The website is getting 6 Lakhs hits per second and hence been jammed somewhere 🙂 . They promised to resume accepting the ORDERS for freedom 251 mobile, within 24 hours. We understand, strange things can happen with anybody, anywhere and any time. All their excuses were acceptable at that time. Let's move to the second day, 19th February 2016.
Yes, Today is 19th February, 2016. We have checked the official website of Ringing bell Freedom 251 mobile to check if the previous statements were true or not. Actually, now they are accepting the orders but not completing them 🙂 . At their website, they ask us to provide the requested information, after clicking proceed button, they just are thanking us for the support and saying that they will send the payment link to the email address, which we think will never happen. What the HELL this is all about, why they are doing this to the innocent indian population, why the government officials isn't asking anything from the Ringing Bell authorities, why they are providing this Freedom 251 smartphone for only INR 251, which actually costs near about INR 2700. WHY, WHy and Why ?.
In between all these why's, Indian population is just crazy to place their order as they don't want to get behind in the list, maybe scammed people's list 🙂 . Today, we are here to tell the actual facts about this Ringing Bell company and their cheapest smartphone of the world, Freedom 251. First of all please check the First look of Freedom 251 Smartphone at Youtube.
Freedom 251 Company Details.
Company Name: Ringing Bells Private Limited Co.
Present Address: B 44, Sector-63, Noida, Pincode-201301.
Official Website: www.freedom251.com
Ringing Bells Email: [email protected]
Customer Care Phone No.: 01214001000, 01214200470 & 01206619580. (as on their website)
Freedom 251 Mobile Phone Specifications.
Display Screen: 4.00 Inch WVGA IPS.
Processor: 1.3 GHz, Quad-core.
RAM: 1 Gb.
Internal Storage: 8 Gb, Expandable upto 32 Gb using SD card.
Rear & Front camera: 3.2 megapixel & 0.3 megapixel respectively, no flash.
Battery Capacity: 1450 mAh.
Single / Dual SIM: Yes, Dual Sim 3G, GSM.
Operating System: 5.1 (Android).
Others: WiFi, Bluetooth, FM and Proximity sensor.
Warranty: 1 Year, at 650+ service centers all over the India.
How to Book Freedom 251 Android Smartphone.
Visit the official website, www.freedom251.com , Hit Buy Now.
The order page will ask to provide some basic information about the customer, Provide the info and hit OK.
That's it, Your Freedom 251 Smartphone will arrive at the provided address within 120 days.(as stated on their website).
Important: You can only book 1 Freedom 251 per email identity. This means, If you want to order more than one phone, you have to use different email identities while ordering.
Why to BUY / ORDER Freedom 251 Mobile by Ringing Bells.
Cheapest all around the World (INR 291 including shipping charges, otherwise INR 251, as the name suggest).
Don't have any other option 🙂 .
Why NOT to BUY / ORDER Freedom 251 Mobile by Ringing Bells.
Getting any full featured Android Smartphone @ INR 251 is undigestible in this modern world, Do you agree OR not.
Delivery time within 4 months, Can we ask, WHY to wait for 120 days ???, DO they import this Smartphone from any other planet 🙂 .
The company providing Freedom 251 is just a 5 month OLD Company, not trustable , RIGHT?.
Nobody is answering on their customer support numbers given at their website, very strange.
Whois status for the official website for Freedom 251 mobile is showing 10th February,2016 as the creation date. They just have registered this domain for 1 year only. Why ?. Do anybody have the answer for this.
So, How's that, Have you made any real decision to purchase any of the Freedom 251 Smartphone.
Interesting facts about Ringing Bell Freedom 251 Android Smartphone.
Sources has confirmed that the actual smartphone they are offering, is totally different from the picture shown at their official website.
This Freedom 251 is a obvious copy cat of the iPhone. It has the exact circular button at the bottom, as in the iPhone 6s. In addition to this, Icons of the software are also taken from the iOS. Many other basic applications are also copied from the iOS in this Freedom 251 Smartphone.
In accordance to the Hindustan Times, this Freedom 251 is an Adcom branded phone, here Adcom is a Delhi based importer of IT related products. Same looking Smartphone, with same specifications is already available on major E Commerce websites.
According to ICA (Indian Cellular Association), it's impossible to offer any Smartphone @ INR 251, when the minimum price to manufacture a 3G Smartphone is INR 2,700. Really ?.
In the past also, in the case of the cheap Aakash Tablet. The company, DataWind, has failed to deliver the TABS on time. Don't you think, this may happen once more. Do you people want to repeat the history.
Many of the people are trusting this because they think it's a Govt of India initiative and Indian Government is providing any subcidy for the same. No, this is just a myth, which people have believed by viewing some cabinet ministers there at the inaugural of this Freedom 251 Android Smartphone.
That's all we have related to the cheapest Smartphone of the world, Freedom 251. Just open your brains, think twice, before taking any real decision to ORDER this Freedom 251 Smartphone. Many Business Gurus are smelling some SCAM from this. Be careful.
Latest News / Update about Ringing Bells, Freedom 251 Smartphone / Mobile.
19th February, 2016: Ringing Bells is now accepting the ORDER but not in the actual way. After providing requested information at Freedom 251 ORDER page, they are thanking us for the support, and informing that they will send the payment link to customer's email address, but WHEN ?, they said SHORTLY 🙂 .
20th February, 2016: Ringing Bells has confirmed that they have received 5 Crore bookings for the Freedom 251 Mobile / Smartphone, but they will only entertain 25 Lacs, out of 5 CRORE, Oops another U-TURN by ringing bells 🙂 .
21th February, 2016: The official website of Freedom 251 Smart Phone is back to the normal again, they have refused to take any more bookings for the Freedom 251 mobile, what about the previous BOOKINGS 🙂 . We too have 3 bookings 🙂 .
Note: We will update this section daily. Please subscribe to us, and get every update related to Freedom 251 Mobile direct to your mail box.
Final Verdict.
Sorry, we are unable to give any final verdict for this Freedom 251 Smartphone. Let's give some more time to this process, like 5-6 more days. Once we get some more data related to this Shocking deal, we will update this section without any delay. Till then, Tata, Bye-Bye. Be careful and stop dreaming about Freedom 251 Smartphone. One more thing, we never want to harm anybody's reputation, here we are just following our tagline, to provide the best information, that MATTERS.
Thanks Again for the reading, and Always keep a thing in your mind, Strange things can happen with anybody, anywhere & anytime 🙂 . God Bless Everybody. Keep Visiting a2z infomatics.