Why You Should Download Facebook Lite Android App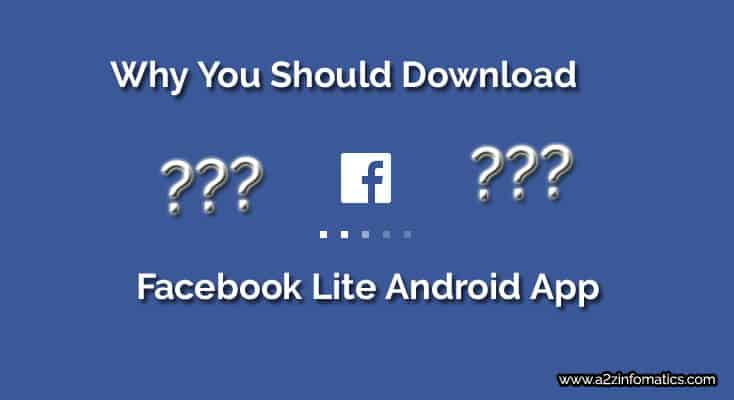 Facebook Lite Android App, Real / Simple Answers for many WHY's.
Facebook, The leaders in Social Media has always gone for better user experience rather than maintaining it balanced with overall performance. They have different model for every single platform. Desktop systems have the bulk of resources so better user experience is acceptable for their desktop version of application. In Mobiles / Tablets, there are limited resources, hence only concentrating on the user experience is not acceptable by any mean. They have to think about it OR I can say, they have heard this from somewhere and have introduced their Facebook Lite App 🙂 .
70 percent of the staff member at a2z infomatics use ANDROID in their phones, We all think thrice before opening the ANDROID Facebook Application as it sucks majority of resources in our MOBILES. Due to this we are little bit confuse, If using Facebook Android Application is a wise decision ?
Normally, the application developers always goes to maintain the balance between better user experience and better performance. We are confused again, If there were special instructions to the "Facebook Application Developers" to focus more on user experience rather than keeping it balanced.
Here is some good news for all the people, who cares for the battery life, performance and data charges in their MOBILE Phones.
Just lately, After reading this post 🙂 , Facebook has offered another application named "Facebook Lite" for their ANDROID users. The term "Lite" in the application name speaks itself, here Lite is indicating a thing less weighted. By this application name, Facebook is informing their users that they cares for the so called "PERFORMANCE" of the application too. They have claimed that this new application will consume less resources such as battery life, memory, mobile data etc etc.
Now, Do Shifting to this new Facebook Lite application makes any sense ?.  For this we have to look some salient features of "Facebook Lite" because then only we will be in position to decide wisely.
Features of newly released "Facebook Lite" Application:
1)- Facebook Lite is of less than 1 MB in size, very strange for any ANDROID App.
It's very hard to imagine an ANDROID Application having size of less than 1 MB, specially for any  social media network. For many this will sound funny but believe us, in real Facebook-lite app is of 0.5 MB in size. Yups!, we repeat 0.5 MB, Great Job Facebook Developers…. tons of likes for this 🙂 .
Now what does this means ? Actually, this means that now you don't have to worry about having huge space available in your unit before installing Facebook App. Even after installation, it just occupy 2-3 MB of space. Now, if we compare this with the primary Facebook App then it's APK is of 30+ MB in size and occupy near about 140 MB space after installation. Oops, This is a damn two digit difference. We think, many things have been cleared for you after reading this. Let's move forward to some more features.
2)- Low Data Caching Ability.
If anybody is confused with the term "Data Cache", for their easy understandings, Data Cache relates to the app data which is mainly used to boost application speed PLUS performance. Every time you access any app, cached files are utilized to load the web page rather than to download it once again. So eventually this helps to boost speed and save our costly net data. Nevertheless, alongside with some advantages, this cached data leaves some negative impact too. For instance, this may increase memory taken which in return may cause system hanging problem. So, make a note to erase these cached files regularly.
No Worries 🙂 , This Facebook-Lite app was already tailored to create very few number of cached files. You can always check its cache files status by moving to the Application Info section of your device. For Comparison between the traditional and this Facebook-Lite app, Use both the applications for some days and compare their cached data. We bet, you will be surprised after comparing the outcome.
3)- Wow, Less "Costly Mobile Data" Usage
Definitely, everybody in this modern world wants to save their costly mobile date as the rates are climbing very rapidly. The worst  thing happens when our "data pack" get damped due to heavy data consumption applications. The maximum portion of our internet is taken by these apps and we look inside this lengthy list, Facebook is labeled as one of the leading data eater application. I again bet, many of you already know this fact and have experienced this.
In favor of their users, Facebook has developed this Lite app in such a approach that it consume significantly less internet data. Honestly speaking, it is due to its simplified layout and light-weight styling. The best thing is that you can use this Facebook-Lite app on any 2G network without any issue.
If anybody not agreed with above statements, Please compare your data usage stats while using traditional Facebook app and this facebook-Lite Android app. I'm sure you will be AGREED with above statements.
4)- Pleasing User Experience.
We have talked a lot about this "user experience" thing. Now, let we ask you a thing. What will be the best user experience for you ? fast speed, user friendly look, maximum functionality, minimal data consumption etc etc. RIGHT ?
Don't panic, all above features are already enclosed with this tiny Facebook Lite application. Believe us, this app is really quick to load (in 2G networks too) , off course this app is user-friendly too plus you can do nearly everything as it's available on traditional Facebook app OR Facebook desktop website. For instance, you can even organize your groups and pages too using this Facebook-Lite app.
Actually, this LITE version of Facebook application looks the same we have used in our old java based phones.
5)- Very Low Battery Consumption.
At Last, how can we miss out this important feature of Facebook-Lite app. Yes, this LITE version of the facebook app is ideal for best battery performance. Although life of system battery depends on many different factors like screen brightness, multimedia usage, Wi-Fi / bluetooth usage, internet data usage etc. Mainly, installed apps plays the major role that decide our battery life. Some applications are hungry to eat phone's power, Don't worry this LITE facebook app is NOT.
In accordance to recent researches, Facebook Traditional Android app is the biggest culprit if someone is talking about worst battery draining Android Applications.  To remove this unwanted tag, Facebook discovered this LITE version which takes very limited resources of our device including battery life. For your satisfaction, you can anytime confirm its battery usage by moving to power management menu of your device.
That's all we have against this Facebook LITE version Application. We believe, this application has everything wrapped inside it to get 5 star rating. For the sake of your device health, you can at least give it a try. We bet, you are never going to remove this from your phone / device. Install it now and don't forget to share your experience with this LITE Facebook version under comments section below.