Download UPTET 2013-14 UPRI Solved Question Paper 2 PDF
Download UPTET Previous Year ( UPRI-2013-14 ) Paper-2 (Upper Primary Level, class 6 to 8) Question Booklet Series X in Hindi / English with Solutions / Answer Keys in PDF Format.
Section / Part – 4B (Page No 28).
Social Studies & Other Subjects / सामाजिक अध्ययन एवं अन्य विषय.
There are total 60 questions in this UPTET 2013-14 UPRI SET-X section, each question will carry 1 mark to the total tally.
No Negative Marking till date: Good News, you don't  have to worry about the negative marking for any incorrect / wrong answer, till now, the negative marking scheme isn't applicable / declared for the UPTET Examination.
Important: The UPTET 2013-14 Official / Original Question Paper SET-X consist of 32 pages, link to all 32 pages is given at bottom of this post. You are now at page number 28 of UPTET 2013-14 Upper Primary Level (UPRI, Paper-2) Solved Question Paper SET-X in Hindi / English, don't forget to visit all other pages (links given at bottom) of this post to download UPTET 2013-14 UPRI Paper-2 in PDF format. The UPTET 2013-14 UPRI (Paper-2) exam was held on 22 February 2014 all across the State of UP (Uttar Pradesh).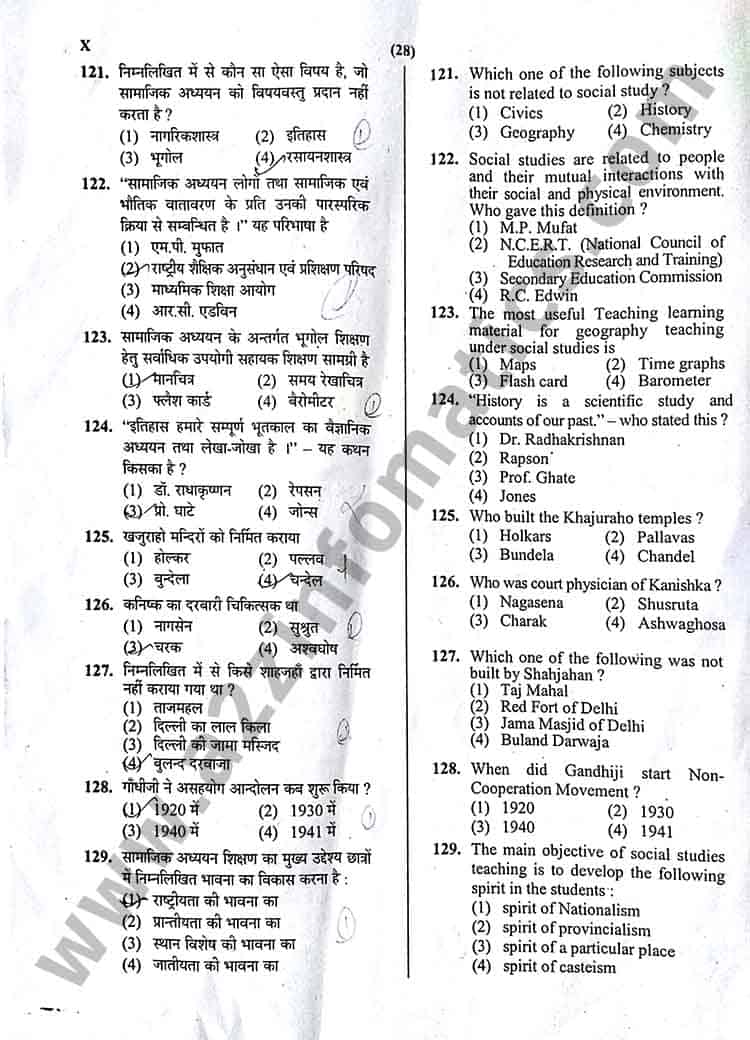 Download Official UPTET 2013-14 Answer Keys / Solutions for all SETS of PRI (class 1 to 5) & UPRI (class 6 to 8) by following this LINK (Link will be updated very shortly).
Note: You can use Right Click > Save Image as … > Save option to download UPTET 2013-14 Official UPRI-2013-14 Question Paper 2 class 6 to 8 (upper primary level) in Hindi and English.