UPTET 2017 Examination Date / Programme Schedule Released
Here comes a good news about UPTET 2017 Examination for all 1.37 lakh agitator Shiksha Mitra's & thousand of other B. Ed degree holders waiting for their dream government teacher job.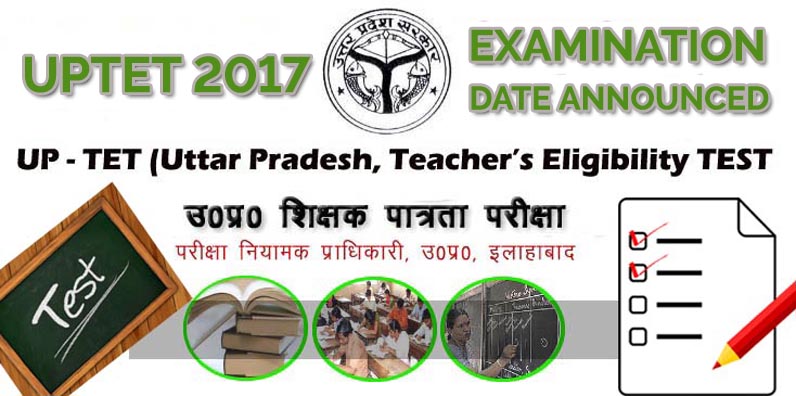 After the Shiksha Mitra started their protest from Monday (21 August 2017) in the capital Lucknow, the UP government has shown a quick response in regard to this protest by announcing UPTET 2017 Examination Programme Schedule.
UPTET 2017 Examination Date / Official Notification for Shiksha Mitra.
UPTET 2017 Date: Sunday, 15 October 2017.
UPTET Teacher Vacancy 2017 – 2018 Official Notification Release Date.
In a fresh statement by Uttar Pradesh Government, this would be near mid of December 2017. 
Important Announcements by UP Govt related to the UPTET 2017 & Shiksha Mirta's.
As per the hon'ble Supreme Court judgement on 25 July 2017, all the shiksha mitra will roll back to their original post from August 1 2017. Earlier they had been promoted to the assistant teacher post. The Uttar Pradesh government had also decided that they will be honorarium with INR 10,000 for their services, earlier they were getting INR 38,800 at the assistant teacher post. On the other hand, the shiksha mirta's deprived from this adjustment only gets INR 3500 for their services.
UPTET 2017 will be conducted on 15 October 2017, the complete official UPTET 2017 notification will be here very shortly.
To help the Shiksha Mitra's, the UP govt had shown their good intentions by providing a weightage of 2.5 marks for per service year with the maximum of 25 marks, to all the effected shiksha mitra. The UP govt is under process to get cabinet approval for this weightage benefit to the Shiksha Mirta's to hold their previous assistant adhyapak / teacher post. Some amendments would be required in the "Uttar Pradesh Basic Shiksha (Adhyapak) Seva Niyamawali, 1981" to provide the additional benefits to shiksha mirta's.
Once the UPTET 2017 gets over, the result this time will be on the fast track as Uttar Pradesh government is willing to release the UP Teacher Vacancy 2017-2018 official notification in the mid of December 2017. This actually is the clear intention of UP government to provide another chance for the Shiksha Mirta's effected by the hon'able Supreme Court judgement, to save their JOB.
In the another important announcement by UP govt, Shiksha Mirta's which are assumed to get back to their original posts from 1 August 2017 will be provided the additional option to continue with their original post (asst teacher) & school, If they are able to pass UPTET 2017.
UPTET 2017 Exam participation is open for all eligible candidates including the Shiksha Mirta's. Don't get confused if this is any special UPTET exam for only the Shiksha Mirta's.
That's all we have for now, We hope this has proved to be the most awaited news for the thousands of candidates waiting for their dream government teacher job. The UPTET 2017 Exam fair is now open for all the eligible candidates, we are in the process to provide updated all UPTET previous year exam papers, detailed notes, sample paper and study material for UPTET 2017. In simple words, you will get every single little thing to pass out UPTET 2017 Examination at a2z infomatics. Please bookmark us for your future visit.