UPTET 2021 Online Application / Registration Form Unknown Error [Solved]
As we all know, UPTET 2021 Registration process is open for all the eligible candidates waiting for their dream government teacher job. The UPTET 2021 Online Registration process will start on 01 November 2021 (from 10:00 AM) and will be available till 20 November 2021 (6:00 PM). While filling the UPTET 2021 form under the headline "उत्तर प्रदेश शिक्षक पात्रता परीक्षा (UPTET) 2021 आवेदन हेतु ऑनलाइन रजिस्ट्रेशन फॉर्म", majority of the candidates are experiencing the "Some Error Occurred. Your Request Could Not Be Processed!" ERROR while trying to SAVE their registration form with all the inputs. This is actually a daunting task to fill all the requested information again and again in the UPTET 2021 registration form. Many applicants had already tried their luck for 20-30 times to register for UPTET 2021, but ended with this unknown UPTET Registration Form Problem / Error.
UPTET 2021 Registration Latest Update: The Official UPTET website is already migrated from http://upbasiceduboard.gov.in/ to https://updeled.gov.in/ . We hope, UPTET 2021 online registration will be hassle free this time for the UPTET candidates.
UPTET 2021 Registration Form Problem / Error.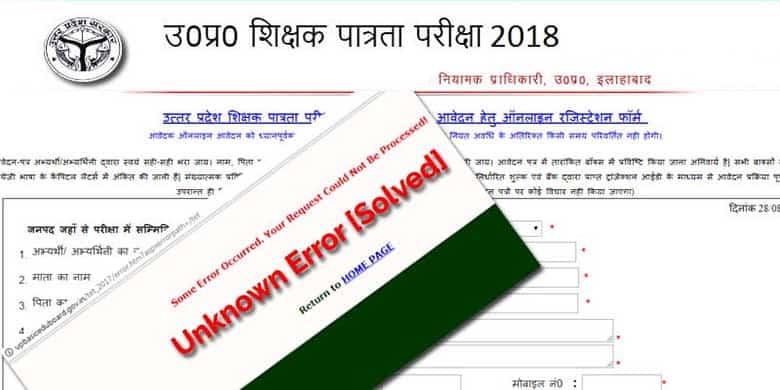 UPTET 2021 Registration Form Error URL.
https://updeled.gov.in/Registration/Tet/DTETRegPartone.aspx
Possible Reasons for UPTET Registration Form ERROR "Some Error Occurred. Your Request Could Not Be Processed!"
To tell you the truth, there maybe several reasons for this type of unknown form submission error, below are some major reasons out of them. Don't worry 🙂 , We assure you that will be be able to successfully register with UPTET 2021, once you read this post till the end. Let's move to the reasons.
1-) UPTET 2021 Server Load: Large amount of candidates will try to register for UPTET 2021 between 8:00 Am to 8:00 PM as people prefer to hire any professional person to get this form registration process done. To avoid this reason, you may try your luck to register for UPTET 2021 between 8:00 PM to 8:00 AM.
2)- Technical Error at UPTET 2021 Registration Website: You can't rule out this reason by any mean, there may be some technical problems with the UPTET 2021 web host. Please confirm this with your friends or colleague, If they are able to register for UPTET 2021 without facing any error.
Note: These type of errors are for very short period, If you experience this UPTET 2021 form error again and again for many days, please rule out this reason for the happenings.
3)- Security Related Problem with your Device: This actually is the most common reason for these type of unknown errors. You may need to update your internet browser, maybe the antivirus in your system is blocking the internal functions of the UPTET registration form. Never rule this reason out, you can try your friend's or relative's device to complete the UPTET registration, if the real culprit if your device.
4)- Session Timeout / Expire Problem: Believe or not, this is the most potential reason for these type of form submission process errors. Every web developer sets some maximum time for the form process completion. To ignore the UPTET 2021 form correction headaches, the UPTET Applicants always takes a lot of time while filling the requested information to the registration form. Maybe they are crossing the session expiry time set by developers, in the UPTET 2021 registration form.
Note: Please fill your UPTET Registration Form very carefully, to beat this session expiry time limit, you may end with error in the inputs in the UPTET Form.
How to Successfully Register for UPTET 2021 Following "Some Error Occurred. Your Request Could Not Be Processed!" Registration Form Error.
Working Trick / Solution for the "Some Error Occurred. Your Request Could Not Be Processed!" Error in UPTET 2021 Registration Form.
1)- Open UPTET Form by visiting this link.
2)- Fill out / Provide all the requested information into the UPTET Registration Form EXCEPT the starting entry (जनपद जहाँ से परीक्षा में सम्मिलित होना चाहते हैं ) and the Entry number 21 ( अपनी फोटो अपलोड करें ).
3)- After filling all the other fields of the registration form, Hit SAVE button at the bottom-right. It may ask you to confirm the action. Hit the OK button.

4)- Now, the registration process will point out the errors in the registration form. Correct the errors (by providing the respective Janpad & Picture (less than 20 KB in jpg or jpeg format).
5)- Finally, HIT the SAVE button once more.
Congo!, You have successfully registered for UPTET 2021, note down your UPTET 2021 registration number to any safe place as it would be required to generate the bank chalaan or using online payment options.
You may also like:
UPTET 2021 Exam Online Registration / Application Form / Notification
Important: If the above solution for the UPTET Registration Form problem haven't worked for you, Please visit the NEXT page of this post, it demonstrate the 100% working solution to resolve UPTET online registration form unknown error. We BET, it will never fail and you will be registered for the UPTET 2021 on first attempt and within seconds.