How can Jio Rs 149 Plan Recharge Users Avail Dhan Dhana Dhan Offer
After Jio Preview, Welcome & Happy New Year Offer, Every Jio user is enjoying Jio Summer Surprise or Jio Dhan Dhana Dhan Offer except Jio Rs 149 Plan Recharge Users. Jio had given a hidden punishment to all their Rs 149 recharge loyal customers. Who could have gone for the Rs 149 tariff plan, If Buy 1 & Get 3 months free offer would have been announced earlier before the deadline (31, March – 2017).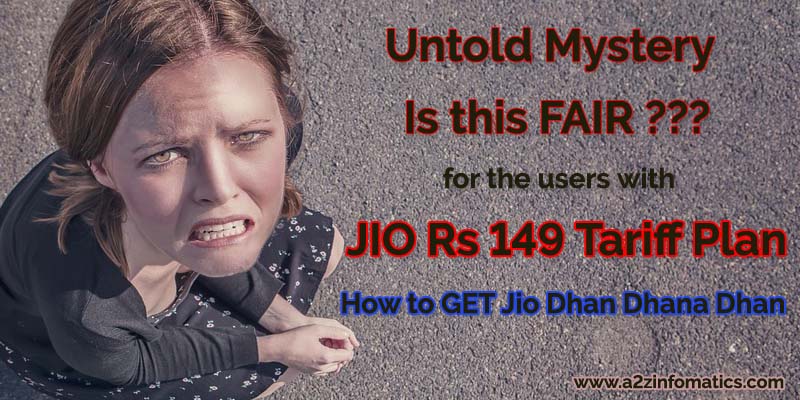 Why Reliance Jio Rs 149 Plan Recharge Users are Loyal Jio Customers.
Because they never thought to leave the Jio LTE 4G Network at any cost.
Because they had shown their interest in Jio paid tariff plans before the deadline, 31 March 2017.
Because they haven't shown their interest in fake attractive offers by other mobile operators like Airtel, Idea and Vodafone.
Because they recharged before the deadline, without knowing that there are more freebies coming for the lazy customers.
What is Jio Rs 149 Tariff Plan ?
Unlimited Free Voice Calling for 28 days.
Only 2GB 4G Data to Jio Prime members & 1GB 4G Data to Non-Prime members for 28 days.
300 SMS (local+national) for Prime & Non-Prime users for 28 days.
Free SUBSCRIPTION to JIO APPS for 28 days.
Important: Jio Money Rs 50 Cashback offer was also not applicable for this category of Jio tariff recharge. Even while recharging for the 149 plan, the users are not allowed to apply the Rs 50 Jio Money Cashback Coupon collected at the time of Jio Prime recharge transaction.
Different Jio Policies for different Users.
Lazy Jio Customers who didn't opted for Jio Prime & didn't recharged with any tariff plan has fully enjoyed Jio unlimted Free services till 1 May, 2017. Whereas, Jio has activated the Rs 149 plan on 23 April 2017, for the culprit Rs 149 tariff plan users.
Jio Customer Care Reply for the Rs 149 Plan Recharge Users.
To resolve the issue, we had contacted Reliance Jio Customer Care via Jio Email Support option. Below is the complete conversation, which may disappoint you in the end.
Query related to Rs 149 recharge problem to the Jio Customer Care by our Administrator on 4 May 2017.
Hi Support Staff, Mine Jio number is XXXXXXXXXX, I have recharged with Rs 149 plan before march 31 2017. At present my 149 plan is active and I am only getting 2GB data for 28 days. There after you people launched Summer Surprise and Jio Dhan Dhana Dhan Offer. Do you think this is fair with all loyal Jio customers who had shown their faith in JIO and recharged with 149 plan before 31 march 2017. Is there any way to convert this plan of Rs 149 to Jio Dhan Dhana Dhan as I too have the right to enjoy 1GB daily 4G data. or I have to wait for this plan to get expire and then I make a fresh recharge of Rs 309 to avail Jio Dhan Dhana Dhan Offer.
Waiting for a quick and positive reply. Thanks.
What a super fast Jio Support, Within 4 hours we got a reply from the Jio Customer Care. Below is the complete explanation given by the Jio Customer care related to the options available for the Jio's Rs 149 Tariff Plan Culprit Users.
Hi, you can recharge with Rs. 309 now and get the benefit of Jio Dhan Dhana Dhan offer for 3 months with 1GB data per day after your current plan expires. Alternately in case you have run out of High Speed Data as per your selected plan benefits, you can opt for an add -on voucher which will get you additional High Speed Data. Rs. 51 for 1GB data with validity of 1 day and Rs. 301 for 6GB data with validity of 28 days.
We also had requested Jio Customer Care to terminate our Rs 149 Jio Tariff Plan, but they have shown their inability to perform such action stating that their systems doesn't allow these operations. Hard to believe that Jio is offering 84 GB 4G data @ Rs 309 for the lazy customers &&& 6 GB 4G data @ Rs 301 to their loyal customers.
Final Notes.
Bad News for Jio Rs 149 Tariff Plan users, they had to wait for their tariff plan to get expired. You can recharge with Rs 309 Jio Dhan Dhana Dhan Offer now, the same will get activated once the culprit Rs 149 tariff plan get expired. It would be better if there was any option to convert any Jio tariff plan or terminate the Jio tariff plan. Don't get upset please as you are not alone, thousands of loyal Jio Customers are facing the same problem. Please do share your views about Jio Policy regarding this Rs 149 recharge matter under the comments section below.