Free Jio Phone with Refundable Rs 1500 Booking / Specification / Delivery Date
After the official launch of Free Jio Phone @ Rs 1500 (fully refundable after 36 months) by Mukesh Ambani (Chairman / MD of Reliance Industries Ltd.) in company's 40th general meeting, the whole community was eagerly waiting for the registration / pre-booking date of the cheapest 4G LTE supported phone named as "India Ka Smartphone". After undergoing into the testing phase, here comes the good news for everybody. Yups the wait to get the Jio 1500 phone is over now, the pre-booking for this cheapest 4G LTE supported smartphone will starts from 24 August 2017 at 5:30 PM. At the booking time, the user has to pay Rs 500 & the remaining amount of Rs 1000 will be requested at the time of Jio Rs 1500 Phone in September 2017. We guess, there is no need to tell that the total amount paid (Rs 1500) is fully refundable after 3 years (36 month) of the purchase upon returning the Free Jio Phone back to the company.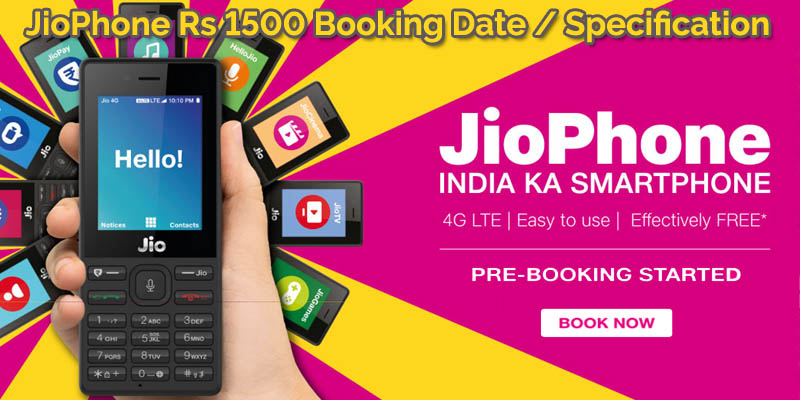 Free Jio Phone Important Dates.
Free JioPhone Launch Date: 21 July 2017.
Free JioPhone Testing start date: 15 August 2017.
Pre-Booking of Free Jio Phone at Rs 1500 (refundable after 36 months) starts date: 24 August 2017, 5:30 PM onwards.
Why JioPhone @ Rs 1500 is actually a free smart phone with 4G LTE Support & Features.
As the amount of Rs 1500 is just a security deposit for the period of 36 months (3 yrs). Once this period is over, Reliance JIO has committed to fully refund the paid amount (Rs 1500) upon the return of the JioPhone back to the company.
How to Book JIO Rs 1500 Phone (Free Jio Phone) for Rs 500 only.
Interested people can book the Rs 1500 JioPhone at Official Reliance JIO Website, MyJio Mobile App and Reliance JIO retail outlets. Make sure that you carry all required documents to book the JioPhone @ Rs 1500. In case of Adhaar Authentication, you only need a valid copy of your Adhaar Card with you at the time of booking Reliance JioPhone using any of the given JioPhone booking options.
Book Jio Rs 1500 SmartPhone using Jio's Official Website.
Visit Reliance Jio Official Website: http://www.jio.com and follow the on-screen instructions. You have to make a initial payment of Rs 500 to successfully complete the pre-booking process. Below are the screenshots for the better understandings.


Important: JioPhone Pre-Booking process is just requesting the user to provide their mobile number and delivery postal pincode. Once you have completed the payment process, you will get your oder / reference number which you can later use to track the delivery status of your Free Jio Phone.
Book Free Jio Phone / SmartPhone using MyJio Mobile App.
At present the MyJio mobile application is available for the Android and iOS users. Android users can download MyJio mobile app from the "Google Play Store" and the iOS users can go to the "App Store" to collect their copy of MyJio mobile app.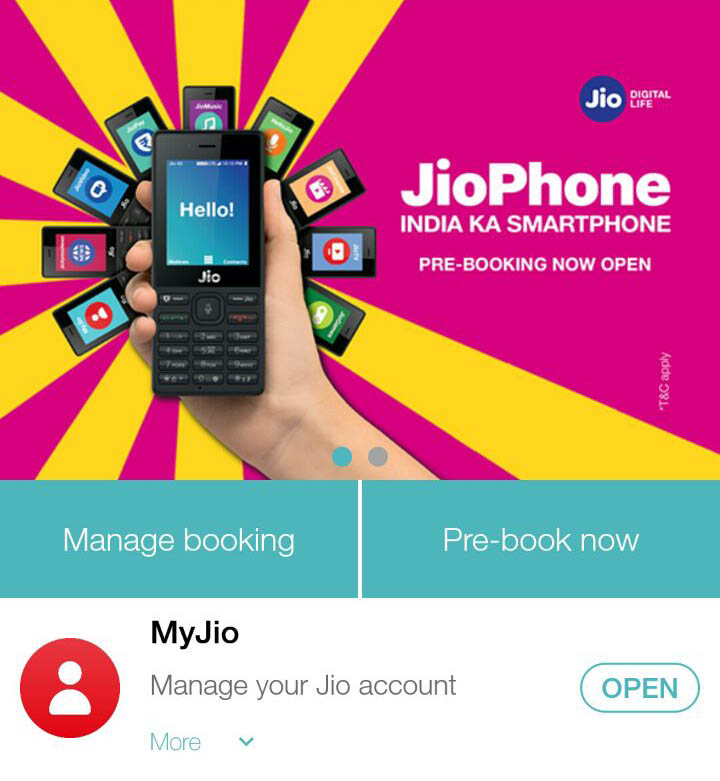 To participate in the pre-booking using the MyJio mobile app, open MyJio app and click "Pre-Book Now". Provide all the required credentials to the booking form and complete the payment of Rs 500 process. That's it, you have successfully pre-booked the Jio Rs 1500 Smart Phone.
Book Free Jio Phone / SmartPhone by visiting your nearest Jio Retail Store / Outlet.
This actually is the most convenient way to pre-book Jio Rs 1500 Phone (JioPhone), you may find some rush against your nearest Jio Retail store as everybody wants this "India ka SmartPhone" as earliest as possible. Jio executives are always there to help you in any of the problem, please carry all the required document while visiting to the Jio Retail outlet.
You can anytime visit this link to find the nearest Jio Store / Outlet to your location / pincode.
How to Pre-Book Free Jio Phone for any Relative or Friend.
It's very simple. At the time of Pre-Booking for the Free Jio Phone, just provide them the respective mobile number and delivery postal pincode, make it sure that Rs 500 payment process has been completed. That's all, no need for any further action, respective person will get the order / reference number on their mobile phone.
Free Jio Phone with Rs 1500 (Security amount for 36 months) Delivery Date.
Delievery dates for the Free Jio Phone at Rs 1500 fully refundable security will truly depend upon how early you are able to pre-book the Rs 1500 JioPhone. In simple words, Relaince Jio is following the First-Come First-Serve algorithm to distribute the Free Jio Phones. Reliance JIO has planned to deliver near 5 million JioPhones per week, but the demand will definitely cross these figures so be ready to wait for your turn. Delivery of the JioPhones is expected to start in the month of September 2017.
Follow this link to track the current status of your Free Jio Phone Pre-Booking.
If there is any need to contact Reliance Jio Customer Support / Care, don't hesitate to catch them and provide complete information about your issue.
Jio Rs 1500 Phone / JioPhone Full Specifications and Features.
Display: 6.09cm QVGA Display, Screen Size: 6.09cm (2.4), Resolution: QVGA (320 x 240).
Camera: 2 MP (rear camera) with 0.3 MP (front camera).
Operating System: KAI OS.
SIM Slot & Size: Single SIM, Nano Sim (4FF type).
CPU (Processor): 1.2 GHz Dual Core.
Chipset used: SPRD 9820A/QC8905.
GPU / Graphics: Mali-400 @ 512MHz.
RAM: 512 MB.
Internal Storage Capacity: 4 GB which is Expandable upto 128 GB using SD card.
Color: Black.
Battery Capacity: 2000 mAh Li-Po, Talktime 12 hours with 15 days standby time.
SD Card Slot: Yes.
Alphanumeric Keypad: Yes.
4-Way Navigation: Yes.
Headphone Jack: Yes.
Torch Light: Yes.
FM Radio: Yes.
4G Connectivity: Yes.
LTE Support: Yes.
WiFi: Yes.
Bluetooth: BT 4.1 with BLE.
GPS: Yes.
USB Support: Yes – USB 2.0.
Email Support: Yes via Microsoft Exchange.
Jio Apps Support: MyJio, JioTV, JioCinema, JioChat, JioMusic, JioXpressNews.
CONNECT TO TV: Yes. using JioMediaCable.
That's all for now, please don't waste anymore time. Pre-Booking for Free Jio Phone is still open, initiate it and enjoy Jio unlimited free calls and data on "India Ka SmartPhone".