How to Download or Save Own / Other's Instagram Story [Solved]
We guess most of the people are fully aware with the newly introduced Instagram stories feature. For those who doesn't have any idea about Instagram story feature, below is the complete explanation.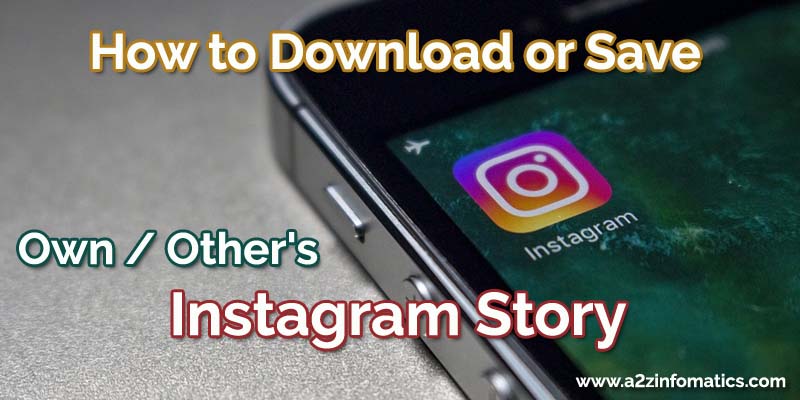 What is Instagram Stories ? [Explained]
Instagram has labelled its newly introduced story feature which lets their users to share each and every moments of their day, not just the ones they wish to keep on their profile. This story feature basically allows the Instagram users to share their multiple pictures and videos, and the outcome will appear together as a slideshow. If you are familiar with the Snapchat Stories, this Instagram story feature is very much similar to it. You can also add text, filters, stickers and geostickers to the Instagram stories. In addition, all these photos and videos will completely go away after 24 hours.
Saving anybody's story in the Snapchat is relatively easy in comparision to the Instagram. Don't worry, today we are here with this complete howto tutorial about saving Instagram stories or pictures (photos) to your phone / mobile device. In this tutorial, we will demonstrate all known / different methods to save the Instagram stories of others into your mobile phone.
How to Download / Save your own Instagram story ?
Although there is no official way to save other's Instagram stories, but you can download your own instagram story anytime following the below steps in your Instagram mobile app.
1)- First of all, launch your Instagram mobile app and click / tap to the "Stories" section on the screen to open your own Instagram story.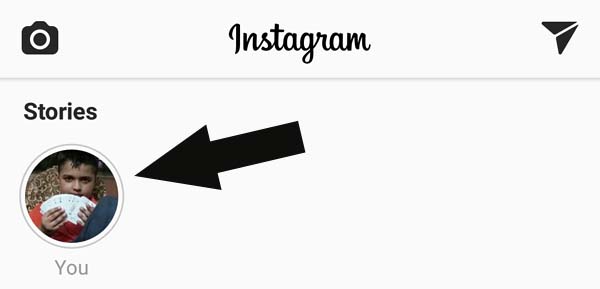 2)- Once the Instagram mobile app starts playing your story as a slideshow, look for the 3 vertical dots at bottom right and click to it.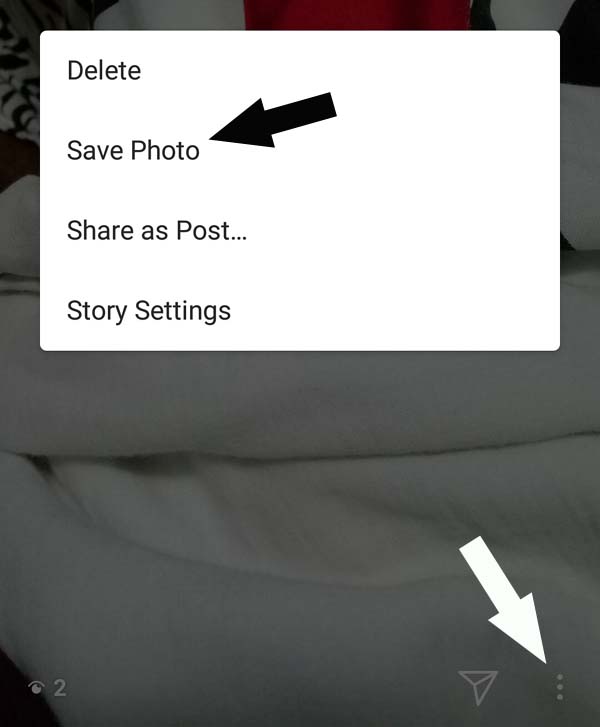 3)- Now, click "Save Photo" option from the popup screen.
That's it, no further action needed. You had successfully saved your Instagram story.
Note: You can anytime access your saved Instagram story from the phone's internal storage using gallery or file manger app.
Important: Many times, people just use the Instagram mobile app to quickly edit the clicked pictures for any other use. If you don't want to share (post) these pictures / photos to your Instagram story, you can anytime save them in your phone's internal storage. Once you clicked any picture using the Instagram mobile app, the process ask you to select the further action by providing the "Save" and "Your Story" option. Just click to the "Save" option and proceed with the "Next" button on the screen and your clicked picture will only be saved to your phone's internal storage. For better understandings, please refer to the screenshot given below.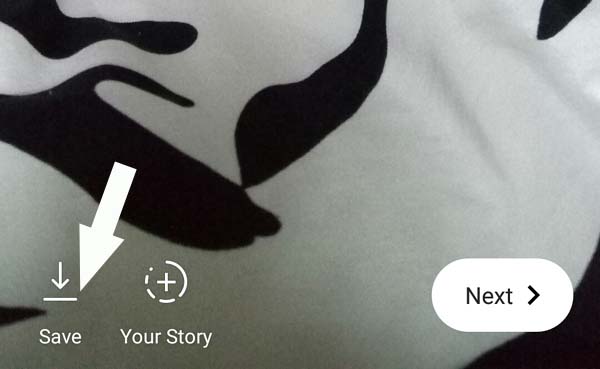 How to Download / Save other's Instagram Stories without Notifying them.
Actually due to some privacy reasons, Instagram mobile app doesn't provide any official option / way to download or save other's Instagram stories. Don't worry if you really wants to save / download anybody's Instagram story without notifying them, there are still few ways by which you can easily download or save anybody's Instagram stories within seconds.
Using the ScreenShot method.
This is the easiest and most loved method to capture your mobile screen. What about using this evergreen method to capture each and every sscreen of the Instagram story slideshow 🙂 . Although this is a manual method, but will do the job perfectly for you. You just need to open the Instagram story you wish to save or download. Once the Instagram story slideshow starts playing, just take the screenshot of each and every frame of the Instagram story slideshow. In case, you need help about howto take screenshots in the mobile phones, below is the complete howto tutorial about taking the screenshots.
How to capture the Screenshots in Android Mobile Phones without any third party applications.
Just Click / Tap and hold "power" & "volume down" button simultaneously for few seconds, the current mobile screen at which this action has been performed will be captured and get saved into the mobile's internal storage.
Important: The above procedure about taking the screenshot will work in most of the mobile devices with different Android versions. If this procedure isn't working for you, you can use the alternative way given below.
Alternate way to capture the screenshot in Android mobile phone / devices.
Just Click / Tap and hold the "power" button for few seconds, wait for the "take screenshot" popup screen to arrive and click to it.
Don't you think this was the easiest howto guide for any action to perform in the mobile phone 🙂 .
Important: There maybe many multiple pictures in the Instagram story you wish to save or download. The Instagram mobile application will play them as a slideshow, so you have to be very quick to capture each and every frame of the Instagram story slideshow.
Using IG Story Google Chrome's Extension.

You can use this third party Google Chrome's extension to save / download anybody's complete Instagram story on your desktop computer system. Below are the complete howto steps about perform this action on your computer systems.
1)- First of all, install Google Chrome's IG Story extension into your Chrome browser.
2)- Now, open the Google Chrome internet broswer and Log in to your Instagram account using the required credentials.
3)- Once you have logged into your Instagram account, look for the story you wish to download on your Instagram wall.
4)- After finding the desired Instagram story, Tap / Click the story and follow the "Download Story" link at top-right under the Chrome's IG Story extension menu.
That's it. The desired Instagram story have been successfully downloaded into the "Downloads" folder of your computer system. As this extension download the stories in ZIP format so you will need to unzip the downloaded file to view the complete downloaded Instagram story. In case, you don't need the complete Instagram story, you just need to download any particular picture or video, you can anytime use the "save image as" option under the right click menu.
Ending Notes:
That's all we have related to story saver for Instagram topic. If you know any other easiest method to save / download other's Instagram Stories without notifying them, please share them with the internet community under the comments section below. Thanks for your valuable time, many more similar post are ready to arrive here shortly, keep visiting a2z infomatics.