Without any doubts, Facebook is the largest social network with countless active users. Facebook is known for its simplicity and easy user interface, with great respect to their user's privacy values. To maintain fair environment among the users, Facebook administration tracks each and every activity of the users. There are some simple straight guidelines which every Facebook user is bound to follow. If anybody fails or intentionally try to break the rules (guidelines), there is a punishment system which is technically named as Facebook Jail. Once their automatic tracking system founds anybody guilty, they manually check the particular activities and push different levels of the boundations accordingly. In the case of serious violations or spammy attitude by any user, the Facebook Jail may lead to permanent deletion of the Facebook Account. Don't worry, most of the times, these boundations (Facebook account restrictions) are temporary and they will be automatically lifted out from your Facebook account after 30 or 60 days or after specific (defined by Facebook automatic system) time period.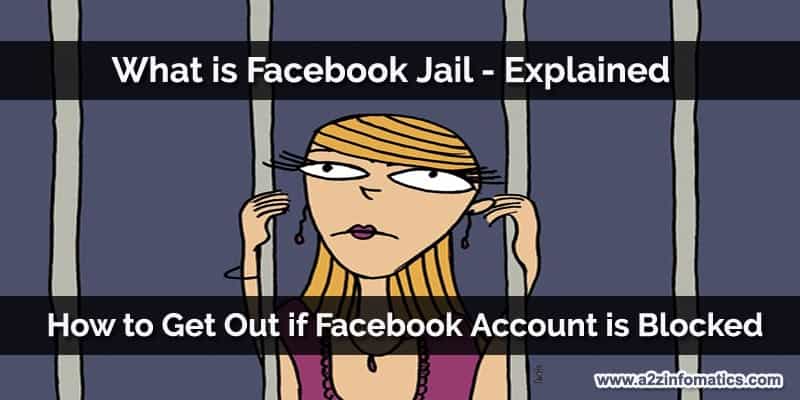 There are many different precautions, an individual can adopt to avoid any limitations or penalties to the Facebook Account. If any Facebook user found guilty, there is no known way to eliminate the restrictions they apply to the FB account. People who are experiencing the Facebook Jail, still searching for any working way to get rid of this Facebook prison. Below is the complete explanation for these restrictions / limitations applied to the Facebook account. You always have to remember, that there is no way to catch Facebook customer care / support directly.
What is Facebook Jail and its Types ?
First of all, forget about any legal court case or physical prison in the issue of Facebook Jail. You will never have any physical damage if they put anybody to the Facebook Jail. Its only the Facebook account that will be affected, once anybody found themselves in the Facebook Jail. This logical Facebook prison can be temporary or permanent. Below are the detailed explanations about the types of restriction they apply in the condition of Facebook Jail.
1)- Temporary Facebook Jail.
The Facebook restrictions / limitations under this category are for temporary phase only. They will block the related particular service in the Facebook account, for which they had evaluated any violation or spammy activity. All the blocked Facebook services under this category will be for the limited time period. Once the allotted time period for the account limitations are over, the Facebook account will switch to the normal mode, with all services working.
Example: If there are so many unaccepted Facebook friend request in the account, the automatic spam detection system may sense this as a spammy activity. The system will guess that you are sending the friend requests to unknown people and may put some temporary limitations to the friend request sending capabilities.
Important: Regular instances of the Temporary Facebook Jail can leads to the Permanent Facebook Jail, or Facebook Account deletion.
2)- Permanent Facebook Jail.
As the name suggest, all the Facebook account restrictions / limitations under this category will be permanent or you can say for life time. In simple words, an individual can't be able to access any related particular service OR complete Facebook account anymore, if found accused for this permanent Facebook Jail. This is an irreversible process, you will never get any second chance if you falls under this category.
Example: If anybody's found spreading inappropriate content to the news feed OR to the Multiple Facebook Groups, that person is a strong contender for the Permanent Facebook Jail. Here is the complete list of strictly prohibited content to use on Facebook.
Important: As there is no option to contact Facebook spam detection team, you will never get any second chance to appeal against the Permanent Facebook Jail. Here permanent means unchangeable, please do remain at the safer side.
Why there is the need of Facebook Jail ?
Actually this is Facebook's responsibility to keep their social network safe and clean. For the sake of this responsibility, Facebook penalise the users for not following their simple straight guidelines, by pushing temporary limitations to any related service or account. Permanent account limitations or deletion is only considered in the case of any serious rule breaking activity by the user.
Actually Facebook is the network, for the people and by the people. Here the people can interact with each other, express their feelings and share helpful stuff between them. Beside all these positive values, some dirty minded people has started exploiting negative opportunities from the Facebook system. To control these negative activities, Facebook has developed their own set of rules with Facebook Jail for the offenders. This automatic system regularity follows the culprits and punish them in its own way.
Although, the Facebook administration is monitoring all user's activities, its not possible to filter each and every offensive activity. To make the system more powerful, Facebook always request the users to "Report" any inappropriate content,profile or activity they found on the network. They manually review all the "Report" requests by the users and take the needed action against the complaints.
Available options if anybody's is blocked on Facebook.
If anybody's experiencing Permanent Facebook Jail – blocked permanently.
Most of the times, if you are unable to access the Facebook account for a long period, we are very sorry to inform that you are experiencing the permanent Facebook Jail. As discussed earlier, there isn't any known working way to uplift these restrictions. The best and only option available for you, is to create a new Facebook Account without using any of the identity information used previously with the blocked Facebook account. You can use your name while creating the new Facebook Account, do avoid using the same email, address, phone number as of the previous blocked Facebook Account. If you use any of the previous information other than the name, there are very strong chances that you will be enjoying Facebook Jail again.
If anybody's experiencing Temporary Facebook Jail – blocked temporarily.
First of all, we want to let you know that there is nothing to worry about. We guess you are able to access the Facebook Account, if you falls under this category. You maybe unable to access any particular service under your account. Wait & Watch is the best and only option available for you, below are some special tips and instructions for the time being.
Play the Waiting Game now.
Do you have any other best option rather than waiting for your turn?, sorry to inform but you don't have any. This Facebook Jail system is fully automatic, all the account limitations or restrictions have been applied by the system for a specific time period. Once that allotted time period is over, there will be a fresh morning for sure, when you will be with your fully functional Facebook Account. It may take some days to the months, keep yourself engaged in other normal Facebook activities.
Slow down all the Facebook activities.
While you are accessing the limited version of Facebook Account, please slow down all your's Facebook activities to avoid any further restriction to the account. Who knows if your account is under special surveillance to monitor any further spam activity. Just behave like a lazy Facebook user and make a fair interval in between  the posts and comments. Believe or not, this act will surely help you to gain full access to the Facebook Account.
Never repeat the previous mistakes.
Do you know, repeating the same mistakes again and again is actually a serious crime. By repeating the earlier unaccepted activities, you will just delay the restrictions lifts for your Facebook Account. In addition, the spam detection system may consider to permanently block the related service OR complete Facebook account. Do you want to experience permanent Facebook Jail, please be on the safer side and never repeat previous mistakes.
Tricks never works everywhere.
In this modern world, where google has the solution for almost every question / problem. Many third party websites are claiming that they can lift up any limitation or restriction due to the Facebook Jail. Believe or not, they are just in the process of making the fast money as of your's miserable situation. They may provide you any Javascript or can ask you to visit your Facebook Account using their link / url. Facebook system is well equipped to detect any illegal activities happening on their network, just play the fair game and the system will automatically grant you the full access right for your Facebook Account.
Say BYE BYE to the Facebook Auto Bots.
If for any special need, you are using the auto bots for posting to the multiple Facebook Groups, commenting etc, stop using them right now. These Autobots are directly related to the spam activities, you may have experience the Facebook Jail due to these Facebook Autobots. Make this a note, If you keep using these Facebook Auto Bots, you will never have your Facebook Account in normal state. In simple words, you are on the way to experience Permanent Facebook Jail.
Tips to Stay Away from – Facebook Jail / Being Blocked on Facebook.
Always try to publish original content over Facebook, copying others content or pictures may leads to several account penalties.
Keep fair time intervals in between all your's Facebook activity. Posting similar stuff at multiple groups or pages at the same specific time may declare you as a strong applicant for the Facebook Jail.
Don't tag people into the stuff unless the material is related to them. Avoid adding people to the groups without their authorisation. This behaviour is a serious spam offence which may lead to the permanent account deletion.
Do understand the Facebook system completely. Never feel lazy to read their full terms and conditions. Do you know, using personal Facebook Account for any business promotion is strictly prohibited on Facebook. Do you operate multiple Facebook profiles with the same identical personal information, oh my GOD that's not allowed too.
Never behave like a spammer. A large number of Facebook users gets into the Facebook Jail due to huge list of the unaccepted friends requests. The other big reason for people getting into the Facebook Jail is due to adding people to the groups without their consent. Be careful next time before performing any of the above act, this may buy you the ticket for the Facebook Jail.
Find the saboteurs and throw them out of your Facebook Profile. Are you aware that reporting anything "SPAM" is a damn easy thing on Facebook. Your rivals or competitors can easily use this tool to damage your social presence.
Always go with real profile picture with easy accessible bio information. Basically this will help others people to make a clearer picture about yourself. Once they are fully aware about your identity, they will interact with you more freely.
Use URL Shortener for any link promotion campaign. The Facebook spam detection system is fully automatic, who know if it detect the posted link under the spam category. To remain on the safer side, always use any third party url shortener service.
The most important, never use abusive language in your conversation with other or in the content you publish. Facebook people are very harsh with these type of activities. Always try to limit the racist content in your feed, by you or from other, as Facebook is not the place to spread racism.
Final Notes.
We guess now everybody is fully aware of this Facebook Jail term. Countless people gets into this Facebook prison everyday with different experiences and limitations. We are very excited to know each and every restriction Facebook system push to the culprit accounts. Please share the same under the comments section below. That's all we have for now, we will be back with more demanding explanations to the important terms very shortly. Thanks for your time, keep visiting and take good care of yourself.