How to Know | Find the Lost | Forgotten UPTET 2018 Registration Number [Solved]
First of all, we want to let you know that if you are one of the person who had actually lost or forgotten their UPTET 2018 registration number, this post will surely end all the butterfly in your stomach and will prove more than helpful to you. Normally at the time of UPTET Registration, people hire professional operators to get this UPTET Registration process done. These professional operators undertake each and every activity related to the UPTET registration, from UPTET Online Registration form filling to the submission of UPTET application fees using the online UPTET fees payment options. Once the UPTET online registration process is over, usually these hired professional operators provide the printout of the complete UPTET registration details to the UPTET applicants. Some people place these UPTET registration documents to the safe place for any future reference and the rest of them are here … reading this post 🙂 .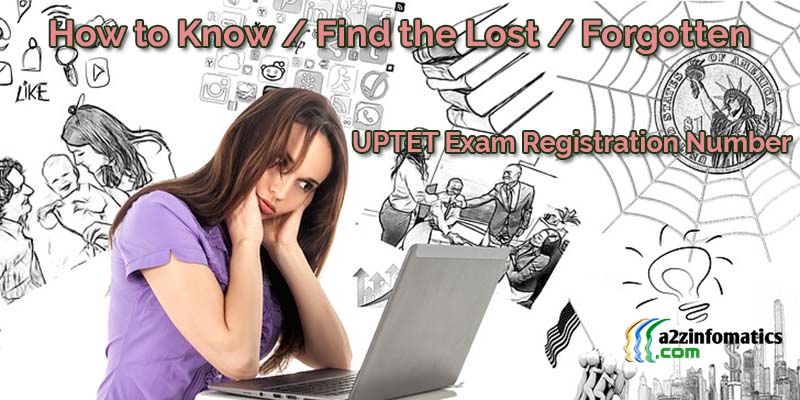 Why UPTET 2018 Registration Number is Needed after the Successful UPTET Online Registration ?
We guess, most of the people are aware with the need of UPTET registration number after the successful UPTET registration. In simple words, UPTET exam registration number and your date of birth (declared in the UPTET online registration form) is mandatory / required to download UPTET 2018 Admit Card / Examination Hall Ticket. Memorizing the D.O.B is very natural for all the UPTET applicants, it's only the UPTET registration number which people lost or forgot due to their carelessness. No worries at all, Today we are here with this simple tutorial guide about getting back your lost or forgotten UPTET registration number, and using the same UPTET registration number you will be able to download your UPTET examination hall ticket / admit card.
How to Find / Know the Forgotten / Lost UPTET 2018 Registration Number to Download the Admit Card.
Although the UPTET 2018 Registration number forgot link is not available at the official UPTET 2018 website, we had invented an alternative UPTET Registration Number Forgot link for all the UPTET 2018 applicants. Below you can find the step by step tutorial guide about generating your lost / forgotten UPTET registration number.
1)- First of all, follow the "State Bank Collect" link in the preferred internet browser and Hit Proceed button after checking the "agreement" check box.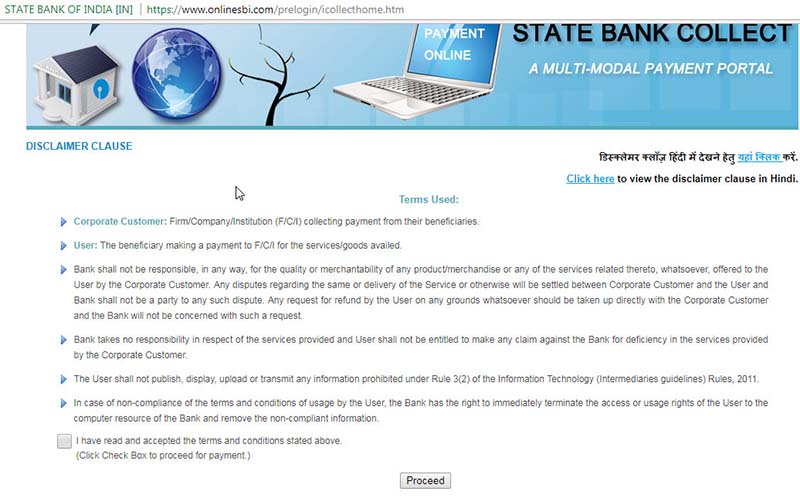 2)- Now, you will be at this page, look for the "Payment History" link on the side menu (left side) and click the "Payment History" link to land on to the payment history page.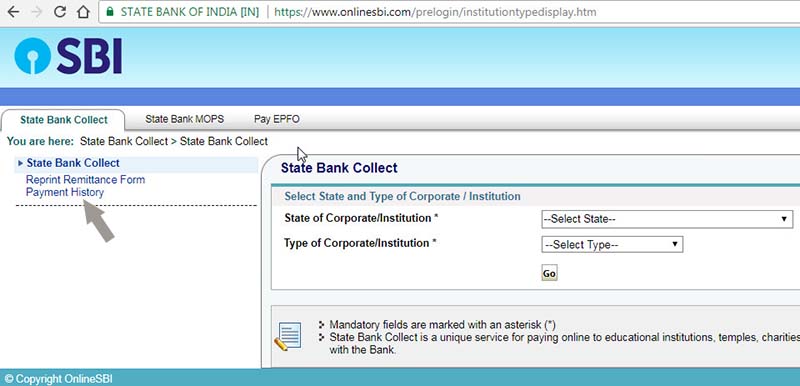 3)- Once you have landed on to this page, check the 1st option (Select a date range to view details of previous payments) and supply all asked credentials like date of birth, mobile number and start date.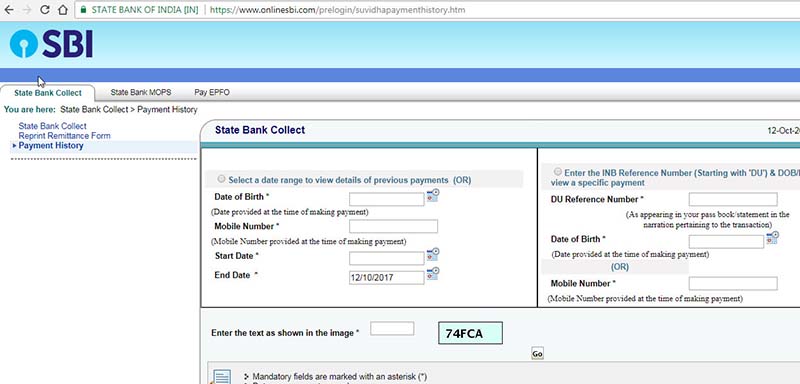 Important: In the start date form field, if you don't remember the UPTET 2018 fees payment date, just put 1/9/2018 in the box. There is no need to change the end date as it will show you the current date.
4)- Once you provide all the required credentials, fill the CAPTCHA code in the BOX and HIT the GO button, it will take you to the State Bank Collect payment history transactions page from 1/9/2018 to Current Date.
5)- Now, look for your UPTET 2018 application fees transaction and HIT the PRINT button under Action heading.
6)- That's it, you have successfully generated the e-Receipt for State Bank Collect Payment related to the UPTET 2018 application fees.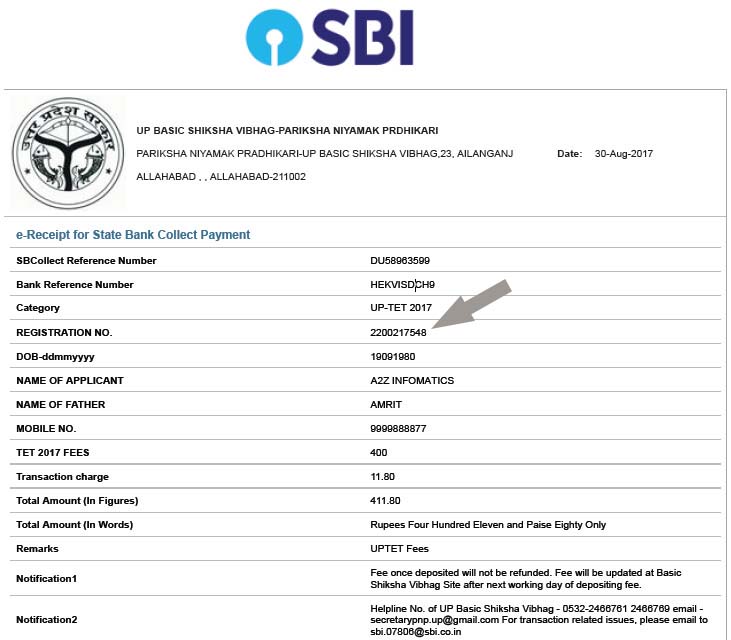 7)- Just look this generated e-Receipt carefully, the forth entry on this e-Receipt is your lost / forgotten UPTET 2018 Registration Number 🙂 .
We guess you are feeling happy now, without wasting any more of a second, go and get your UPTET 2018 Admit Card / Examination hall ticket. In case you are finding that difficult, you really need to check one of our previous post: UPTET 2018 Admit Card Download Unknown Error Problem [Solved]
Ending Notes.
After UPTET Registration Form Unknown Error post, this is another attempt by our team to take care of each and every problem of the UPTET 2018 applicants. Many of the UPTET applicants will actually prove to be a decisive pillar in the growth of this nation. We salutes all of the applicants for their efforts. Please share this post as much as possible as there maybe some more UPTET candidates who had lost or forgotten their UPTET registration number. Best of luck for your UPTET Examination and thanks for your visit. Keep visiting a2z infomatics.